I am so busy with life these days and my blog posts have been pretty far and few between.. I hate that because I know that I am missing out on documenting some milestones here and also know that I have readers that like updates too.
Hubby and I spent the end of September in Las Vegas celebrating our 6th wedding anniversary and lemme tell ya, we had the best of times! My hubby joked that we were wrapping up 6 years of celebration plus our honeymoon all into this one big blow out! We have never done anything extravagant for our anniversary and never got a honeymoon either so it was really cool to go out and just let loose, just the two of us. Kiddos hung out with Nana and PawPaw and, trust me, they all had a great time too! My kids were spoiled rotten by the time my parents got done with them!!
We spent time at the pool and also enjoyed some really great food and some time out on the town.. but the best part of it was when my hubby decided at the last minute to book us a couples massage!
Not only did we get a massage, but we were invited to hang out in the couples only area while waiting to be called back for our massage appointment. It was so fun to go back and change into a super cozy robe and slippers and then be taken to a room where my husband had room service bring up a bottle of champagne.. then we were taken to this room shown in the pic below.. Too.much.fun. The amazing fiber optic lighting above, the waterfall into the jacuzzi, the lighting.. Too perfect. My husband romanced the heck outta me :)
Our massages were really amazing as well. We both got deep tissue massages and though the pressure was pretty intense, I walked out of that room feeling quite refreshed! Once the massages were done, we were taken separately to Mens/Womens sides of the spa and were able to freshen up. I walked into the womens shower area.. there were about 10 different showers there and all had different shampoo/conditioner/body wash fragrants! It was tough to decide which shower to choose!!! I finally went with the Vanilla one. Something about Vanilla.. So we both got freshened up and got dressed up for dinner. The entire trip was so much fun and we both had the time of our lives!
*this is pic from internet.. not me and my husband.. just wanted to show the jaccuzi area*
Post-Vegas means I need extra recovery time! I got home last Tuesday afternoon and took Wednesday off and headed back to weight training on Thursday. Oh my goodness.. I did get through the workout and I actually had a lot more strength than I thought I would, but I still tired quickly. More rest over last weekend and then came out full throttle this week! Well, except for Monday. I caught some sort of crud and was down and out for the count most of the day. I laid around the entire day and then right before bedtime, I started to feel better and joined a group of awesome people doing a 7 Day Push Up Challenge ----> 100 push ups daily for 7 days.
Monday was Day 1 of the challenge and I completed all 100 push ups... 25 on my toes and the rest on my knees.. *ahem* THEY COUNT! It took quite a bit out of me, but I was determined to start Day 1 with everyone else. Day 2 - Day 5 have all been on my toes!!! This is a huge success! It wasn't that long ago that I coudn't do 10 push ups on my toes!
Holy freaking progress!!!!!!!!!!!!!!!!!! Stoked!
I also did some shopping recently.. finally. I hate to spend $ on clothes for myself, but decided I'd put it off long enough and tired of pulling and tugging on my jeans to stay up..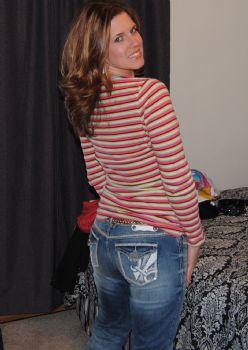 Vanity Premium Brand Jeans Size 26/33
My first ever pair of skinny jeans and tall boots!
Vanity Brand Size 26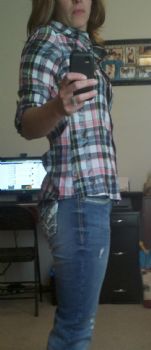 f I ever thought I looked skinny, this would be the pic..
This is really me!?!?! I work hard and love the progress, but sometimes it's surreal!
I never in my lifetime thought I'd wear this size jean again!!!