3 month update!
Tuesday, October 16, 2012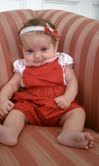 This little lady is now 3 months old! She is such a little ray of sunshine. Her brothers are head over heels in love with her, and of course Daddy is wrapped around her tiny finger.
Mommy has been on the move! I'm still breastfeeding so I want to lose weight, but not compromise my milk supply by losing too fast. Right now I only have 6 more pounds to lose of the 25 I gained during pregnancy. I have been training for a 8k (5 mile) race on Nov 10 and we are approaching the mileage peak over the next few weeks. Running, zumba, cycle and ab workouts are part of my weekly routine. Can I just say again how much I love our gym and the daycare it offers? I can drop all 3 of my kids off for up to 2 hours - long enough to work out AND take a shower!
My goal is to be at pre-baby weight by the time she turns 4 months old. I know I can do it if I stick to my training routine (at least 10 miles a week total until we start tapering right before the race) and continue tracking what I eat. With running and breastfeeding I need a ridiculous amount of water, so I am very conscious of that as well.
Hope everyone is progressing toward their goals! Have a great week!