My computer hates me. I don't know why, but whenever I try writing a blog entry and I am almost done, my computer decides to crash, closes the window or just like it did a few minutes ago telling me that the page was not found.

Funny thing is that I wasn't even finished and haven't clicked on anything because I was uploading a picture from my phone.
Anyway here is my second attempt to share my favourite recipe (from my magic little helper, of course). It's a recipe for meatballs with rice, bell peppers and curry sauce. It is so good and whenever I had friends over for dinner and they tried it they loved it, too.
Today I didn't have ground beef though and I was too lazy to run to the store, so I checked the freezer and found some (lean) pork. I cut the pork into smaller pieces and spread mustard on it instead of using salt (for the meatballs you add mustard to the ground beef). Then I cut the bell peppers into pieces (normally you use 3bell peppers (1red, 1green,1yellow), but I only had red bell peppers and frozen bell peppers in green. Next step is to place the steaming basket with the rice in the bowl and place the Varoma bowl with the pork and bell peppers on the bowl with the rice. Set the timer to 28minutes.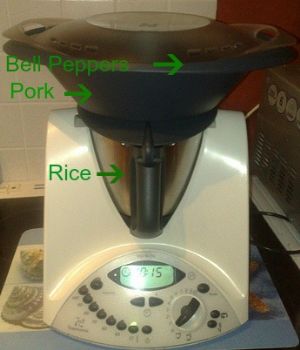 Drain the rice over a bowl and add butter to the TM31 bowl and heat it up for about a minute. Add the same amount flour and heat it up for two minutes. Now you have to add the remaining water from the rice, vegetable stock, pepper, curry and lemon juice and cook for 3minutes. In the last step you pour milk in the bowl and heat it up for another minute.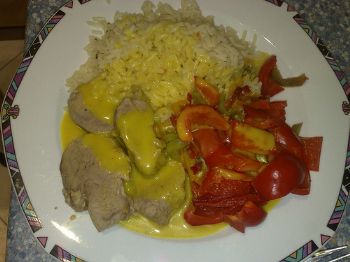 I know, the curry sauce is not diet friendly, but the other day I adjusted my trackers because I found out how to add exercise videos to my fitness tracker (Haha, it took me almost 6months to figure that out), so now I have a higher calorie range and since I always had troubles to reach the calorie range at all, I thought I could even make this recipe and will still be within my range.
Hope everyone has a great weekend (so far).