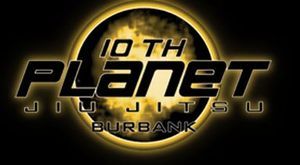 Image from http://www.10thplanetjj.com/
My gym has planned a trip to Los Angeles to take classes with Eddie Bravo, the founder of 10th Planet Jiu Jitsu. After a couple of weeks of waiting for plans to be finalized, the trip was finally set for 1/7-1/11/2013. I purchased my ticket to get to Los Angeles yesterday, waiting to purchase my ticket with my coach Nate so we could travel together. There about 10 people from our gym going. It will be an intensive week of classes. In addition to working with Eddie Bravo, we will hopefully get to do some work with Joe Rogan and Renato Laranja, a couple of other famous faces of Jiu Jitsu. Several UFC fighters and Ronda Rousey also train the the 10th Planet Burbank gym, so it should be an interesting and exciting week.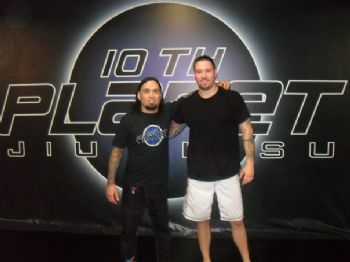 My coach Nate (taller guy) with 10th Planet Jiu Jitsu founder Eddie Bravo.
Image from http://www.nextlevelcombat.com
I feel like a kid waiting to go to Disneyland (well, close enough, we'll be in Burbank), I am so freaking excited. I also can't wait to get in some beach time. It has been several years since I have set foot in the ocean. I will be keeping my eating as clean as possible and sticking to my training regimen in preparation for the trip. The classes at the L.A. gym are tough, so I need to be ready.
My eating has been pretty good and I have been tracking well. Between Jiu Jitsu, intense cardio sessions, and heavy-weight strength training, my body seems to respond best to having some extra calories (about 500-1000 calories) a couple of days per week. Unfortunately, I seem to splurge on wheat and dairy stuff, so I should make a better effort to keep those foods at bay so I don't get bloated and puffy. Nevertheless, I continue to firm up and I have been less sore recently. My body seems to make good use of the extra food. My goal will be to have the extra calories come from high-protein, moderate-carbohydrates foods, avoiding wheat and dairy. In any case, I will stay the course with tracking.
My workouts have been fantastic recently. I have been writing workouts for my coach Nate. Some of the other guys at the gym jump in on the workouts. I have to say, it is satisfying to see professional martial artists grunt, groan, and sweat through my workouts. I try to do the workouts when I don't need to guide the guys through as much, and I almost laugh. My workouts are tough. We have been doing interval training, including old-school moves like burpees, mountain climbers, variations of jumping jacks, jump rope, and more, combined with boxing/kickboxing, kettlebells, strength moves, and Pilates. Every time I do one of my workouts, I end up thinking to myself, "WHY do I do this to myself?" But, the workouts are doable, modifiable if needed, and I feel great afterwards. It's been fun working out with Nate and some of the guys from the gym.
I have had great fun applying my knowledge from my kinesiology degree in designing these workouts. The guys are sometimes resistant to try new things, so I try to include one or two new moves in each workout, and we are building up from there. The best reaction has been to doing Pilates. Pilates has great applicability to Jiu Jitsu in the slow and controlled manner of working the abs and back, as well as smaller stabilizer muscles, but some of the guys think Pilates is too "girly." Getting these guys to do Pilates has been like trying to get a little kid to eat their vegetables. If I say we're doing a Pilates move, they crinkle their nose and groan. So, I have learned not to call the moves a Pilates exercise and just make them do it (if they even make it through all of the reps, haha!). So, if I call it "manly abs" or something, they'll just do it.
I have also started running again, and I have so missed it. I am doing run/walk intervals, sometimes timed, sometimes not. As long as I ice my knee right afterwards, my right leg is tolerating it. I do not think I will do distance running again, but am happy to return to running in some capacity. It will also give my aerobic capacity a boost and hopefully increase the amount of fat that I burn.
I finally remembered to have someone take progress pictures a couple of weeks ago. I have lost several inches over the past few months, so I was excited to take some pictures. I have been feeling pretty strong recently, so my reaction was pretty negative when I first looked at the recent pictures. I just thought I would look...different, I guess. I have to remember that they are progress pictures, not perfection pictures. It doesn't help that I was close to TOM, so maybe not in the best mindset to look at my body. I feel better about the pictures now.

"Before" picture, February 2011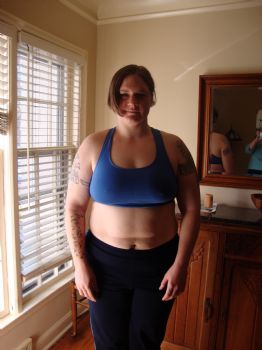 October 2012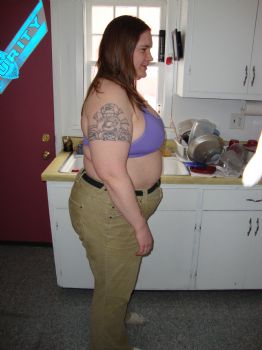 "Before" picture, February 2011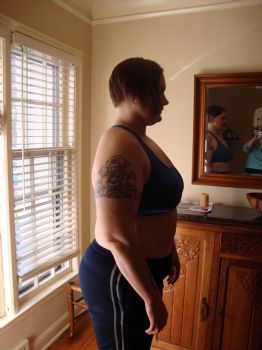 October 2012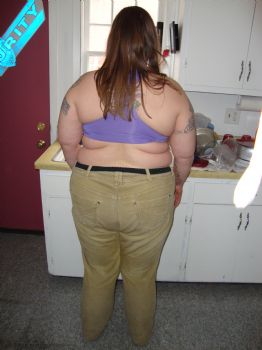 "Before" picture, February 2011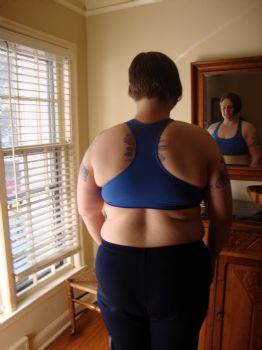 October 2012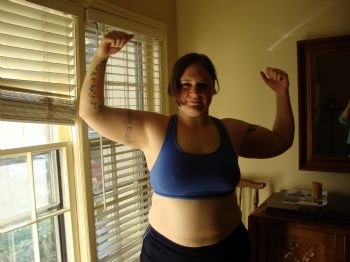 October 2012
October 2012