Lost 8 pounds
Friday, October 12, 2012
A few days ago, I checked my weight. I didn't expect to see that I lost 8 pounds! I had to check it 5 more times to make sure I wasn't losing my mind. I guess parking far away from my class plus bowling helped out. Also I eat a fruit along with my coffee in the morning. My teeth are sensitive so I can't eat the apple cold. Most of the time, I can't cut it because I'm on the go.
I've also kept up with my sleeping journal for the most part. Some days I just want to fall asleep and not do much. Tomorrow I'm going to make the first page of Mike's webcomic. I'm currently making my own but I haven't gotten the story straight so I'm still working on it.
Goals
1. Finish art commission
2.Walk 6 Miles
3.Draw 7 pictures
4.drink 8 glasses of water per day
5.Wake up in the morning.
Good things
1.Went bowling
2.Woke up at 10 am
3.worked on fan art
4.ate an apple
5.Washed cat's bed.
Here's a picture in progress. Hope you can see it.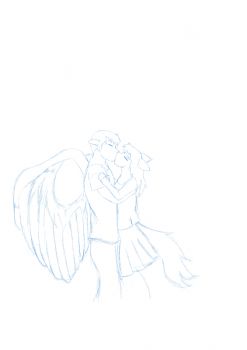 Hope you had a great Friday!
Rachel