Hello all! Thought I would post on this to see if anyone has input of their own experiences to share. Thank you Jayma for sharing your info with me before I even asked!!

So here he is, my 6 year old son, Ryan (will be 7 in 4 months):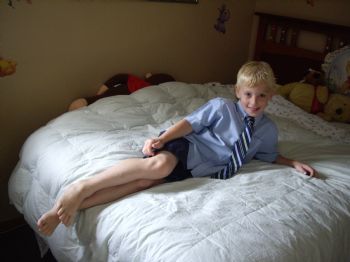 I told him I wanted to take a picture in the shirt/tie I chose for school pictures, and he hopped up to lay on the bed and decided to pose for GQ!

We had a conference with his teacher yesterday afternoon, and she is stating that he isn't
"attending". It took me a few minutes to connect this with "Attention Deficit Disorder". Just say it lady!

Anyway, he is a mover- wiggly, she calls it. And he doesn't finish the in-class assignments- doodles on his eraser instead. And when she teaches, he draws pictures. She also seems to think his drawings are very basic (as compared to the lovely "other child's" drawing she showed us). And he's writing in all capital letters for the most part. And when it's time to follow instructions, he doesn't know what they are or has to look at his peers' papers to see what to do (as he hasn't been paying attention to know himself). Easily distracted- someone gets up, the wind blows something, there's a noise... and he's off task.
Was that the laundry list? I believe so. She suggested we talk to his doctor and begin the process of assessments- her filling out forms, us filling out forms.... to lead to where? He is beyond the 1st grade reading level- by miles. He probably can read better than some adults. His math skills are also high. He's not missing the boat on anything there. (And being a would-be high school math teacher myself, I throw some things out there they haven't even touched on yet in 1st grade. And he gets them!) He writes well enough for a 1st grader, in my opinion. He can write in complete sentences. When I reminded him to write in lower case, he did. His spacing between words has improved. His handwriting is average- no worse than some, not as good as others.
It may be easy for me to state the obvious- "Is he just bored?" Well, yes, he is. Quite frankly, from what he is bringing home for homework... I AM BORED. Color the triangles red, color the rectangles blue, then put the # of each in a box. Simple math equations, all = or less than the sum of 10. There is no challenge here. Sequences- fill in the missing numbers. 1 _ _ 4 5 _ 7_ _ 10. Nothing tricky, nothing to think about. All can be done in about 2 minutes.
This child wants to know how things work. He wants to figure out why he can't fly. We had to pull the lid off the toilet - years ago- to show him how that works. He decided he could blow up balloons faster by using his father's air compressor in the garage. (father was present)

He wants to know where all the drains go. I think he needs a kids' engineering school. If he found this stuff more interesting, would his attention be better? I don't know.
But I do know this- I'm not ready at 6 years old for assessments. Assessments that will not provide him with additional help for academic learning, as I can't believe they would give a child who ISN'T struggling academically, some kind of tutor or aide, right? (This is my assumption.) I'm thinking they want him to sit down and do the worksheets. And that he needs drugs to do this. After my own personal experience last year, I am really against drugging my child.
Now that's not to say there may be some "natural" help out there that I am willing to explore. I've talked with my Mom (a former 30+ year Natural Foods and vitamins store owner) and we have found a supplement for "active kids" to try, as well as some night time sleep help. Ryan obviously has a very active mind, even while sleeping- he yells out sentences of stuff in the middle of the night while asleep- usually upset that someone is taking something away from him. The little mind doesn't rest.... and that does worry me. So I do think it's time to get a little more serious about better rest.
I have chosen a beginning path (my mantra... "Begin anywhere.") and I will go from there, to see how things develop. For now, I asked the teacher to send home any incomplete assignments from the day, so we could finish up after school. Ryan has been made aware of this new arrangement, and hopefully that alone will help him "want" to get it done during the day a little more. I also suggested he see if he can be the first to finish assignments in class. He never thought of that! We'll see how it goes....
My son is quite a challenge. He IS different than most children I've ever known. But his potential is great, I can sense that. If he truly was focused all the time- how much could he accomplish? Probably more than his current teacher has to offer at this time! Am I holding him back by NOT trying medications, or doing the right thing by shielding him from potential side effects of drugs? Choices.... for now, I am following instinct.