Celebrate Health!!
Friday, October 12, 2012
I have really been enjoying my Saturday group runs. I'm not in this picture, but it shows the setting for our comradery after running. Here are three people (full disclosure: all 3 of these people are faster than I) that run with our Galloway group: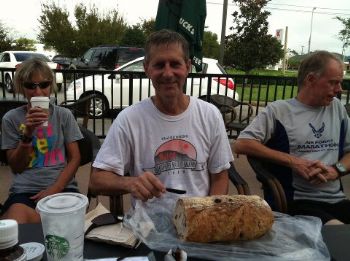 It is 5.5 weeks until my half marathon, which is 13.1 miles. I've run 11 miles twice. I'm not sure I'm going to be able to run tomorrow as I strained my back yesterday. (Darn. Darn. Darn. Picked up the grandkid wrong.) I have had more challenges than I wanted recently. My skinned knee from the bicycle fall Sunday before last is not an issue. The digestive pain I had Saturday evening is totally gone. Now this back issue.
I'm thinking determination. I'm determined not to do anything stupid, but not to pass up a chance to train if I'm healthy enough. Yep, I've said it before. Celebrate any day you are healthy enough to run!!!