Positive thinking can and will help you loose weight!
Thursday, October 11, 2012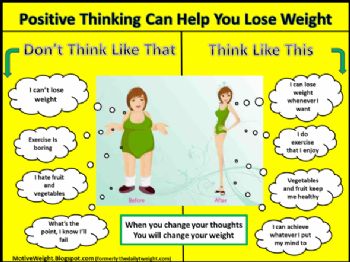 Always know what your goal is and have a plan ready of how you are going to get to it. Something that you enjoy can and will stick to. Also it is important to know why you have that goal.
You are what you think! Your thoughts create your reality! What you focus on you become!
You have to take stock of what is going on in your life, who you are surrounding yourself with, be they positive or negative influences and decide who should be in your future that will benefit you and not use you for what you can offer them or bring you down. I know as I have left negative people out of my life when I realised I was just being used by them.
Sometimes it may take something drastic like changing jobs or places you live to get you away from negative influences, but believe me it will be worth it in the end if that is what you have to do for yourself for your own Health and happiness.
Paula