I know I can never just stick to one topic.... Main thing on my mind right now is staying positive. Why? Because as soon as I let negative thoughts take over one thought leads to another and suddenly I just don't care as much and everything starts to bug me more as the day goes on! And as a mom of three boys, my days always feel super long.
So I am focused on the positives as always. Right now my main goal is to recover from another sore throat. Yep just had one about two weeks ago so that is a clear sign that I need to focus more on rest and stressing less than pushing harder like I thought I wanted to do when the month started.
Yesterday instead of waking up better like I said in my feed, I woke up feeling worse. Today I feel the same as yesterday. My workout week will be nothing like it was last week. But I am okay with that. Sigh... I am! This week I took Mon completely off of exercise. Tue I did 20min of light yoga and 10min of abs. Yesterday I did a 2mile walk not high incline like usual when I decide to just walk, but good enough to sweat just a little and of course some much needed extra stretching since I have still been sore from my hour long weight training session Sunday morning. So no way I will total the 8hours of exercise from last week or burn over 3000 calories either.
Also yesterday as I was getting the boys ready for school, my 6 year old Cesar who had stayed home from school the day before because he was up coughing all night started throwing up all over the kitchen floor as I was packing their lunches. Another day home for him of course couldn't take him to school like that. Fun times... Lots of little moments like that around here. Kids don't know how to take turns needing mommy. While I was trying to help Cesar on the kitchen floor and cleaning up some of the mess so the others wouldn't step in it, Santiago my 3 year old was on the toilet calling me too! Too funny sometimes just have to roll with it and let them know I can only do one thing at a time! This is one of the reasons I was just happy to have gotten enough sleep. Really sucks having days like that when you feel like half of your brain is still in bed and you get super frustrated not knowing what to do first.
So yea some hectic moments in my day. But I chose to focus on the rare moment that happened with those two yesterday. And I will share that moment that made me smile as I got my walk in they where laying on the floor watching cartoons on the tv I have in my workout space. Look at them : )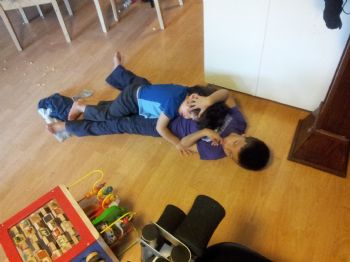 Of course that only lasted a few minutes. Then they where back to running around screaming and fighting over the same toys... LOL : )
And my second topic. I know I am small and never really had a bunch of weight to lose. And I also know that with all my healthy habits even if I stopped trying to continue to gain muscle and lose body fat I would probably not get very big. BUT size and weight is not everything. It is so much more than weight or even how we look in clothes. It is scary to think that some of us who are naturally small can actually be worse off than someone who is obese! True. Check out this little article.
www.foodmatters.tv/artic
les-1/why-skinny-doesn-t-a
lways-mean-healthy
So for these reasons and more I will continue my journey to great health and continue to learn everything I can to not only keep my self healthy, strong and closer to my goals of gaining more muscle, but to keep my boys healthy and teach them life long habits that will help them stay healthy in the world we live in today. We all know how much harder it will be for the next generations to eat well so I think it is a subject that requires a lot of attention.


Thank you to all my awesome spark friends for your constant support. I truly feel blessed to have all of you in my life!



EDIT
OOPS! Almost forgot one more update! Since we have been spoiled with dry weather in the Pacific North West these days. Beating a record of dry days since 1922 by the way at 81 days now I believe here in the Seattle area at least! This has led to some wild fires in eastern Washington where we where suppose to be heading to this weekend for the soccer tournament for my 12 year old's team I had mentioned in my last blog. So they decided last night it will be canceled!!!
Big sigh of relief for me as I had been stressing over this these past few days. Mainly over how to fit it into the budget with gas around $4 a gal these days driving over 400miles in one weekend is not very affordable especially the same week we have to pay the mortgage. The boys are a little disappointed but we sure will appreciate this weekend as a break instead of the supper busy one we where expecting! Good for my full recovery as well. More positives : )