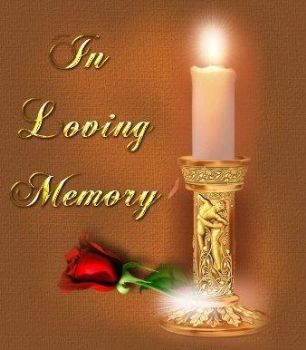 Once again, I am grieving inwardly from another loss of a family member to cancer. Although, I am adopted, I have had the privilege of meeting my natural mother, half-sister, brother-in-law, nephew and uncle and his family over (30) years ago while visiting Germany. Since then, my family in Germany and I have remained in contact via telephone calls, emails and occasional visits. Last month, my German mother lost her battle to breast cancer.
Usually, I am a very positive and upbeat person. However, grief has become a very natural part of my life. Prior to the death of my natural mother, I have lost an additional (5) beloved family members within a 4-year span. I lost my beloved husband, adoptive parents, mother-in-law and German uncle. Because I have three children and two grandsons, including my sister who is taking our motherís death very hard, I have been the strong anchor of support for my immediate family to lean on.
September and October has been very difficult months for me. Due to my late husbandĎs death and financial struggles, my teenaged sons and I were forced to downsize by moving away from the wonderful home we once lived in last month. While I was moving, my natural mother passed away 2 weeks prior to her birthday. In fact in the past (4) years beginning in October due to birthday celebrations and upcoming holidays, my children and grandsons depend on me to continue our holiday traditions that were once passed down by my adoptive parents, natural mother and mother-in-law. Since then I have also created new traditions and memories to help ease the grief my children and I feel because of the absences of our loved ones.
This week, I am in need of moral support, prayers and hugs. I feel so alone and isolated. I am feeling the overwhelming sadness of my loved ones deaths, the variety of cancer that has taken each one of them and am having a hard time remaining strong for my childrenís sake, while my heart is breaking inside. I know itís normal to feel this grief. However, I canít seem to have enough time to let go of one death from a loved one, before another passing occurs. Each cancer has been brutal in the way the diseases took my love ones away. I witnessed three of them. Though, I feel blessed to have been with each one of them, it has taken a toll on me. I know that I can carry on with the inner strength and courage it takes at times, but just for this week, I donít want to do it alone. Please, be here for me. I really need you all. God bless you for taking the time to read my blog.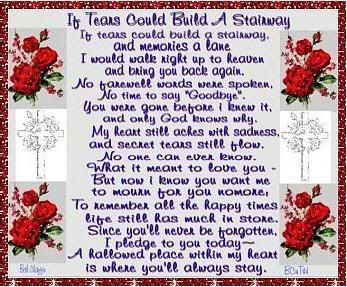 ~ Monika ~