Monday, October 08, 2012
It hasn't even been two weeks since I tried to take my own life again. When I made a nearly successful attempt three years ago, I was so grateful to come out of my coma alive that it made this former athiest a true believer in God. I made written pledges to my loved ones that I would never commit such a selfish act again.
So why did I do it? It defies logical explanation. I am incredulous that I allowed myself to reach such an altered mental state that I had no impulse control. I knew from experience that the sleeping aid Ambien resulted in really bad things for me. How is it that I was stupid enough to go back on it, and progress to a double dose that is abusive?
Despite reaffirming my life again, I had to work hard at adjusting my attitude when I woke up this morning. I successfully chose to be happy and appreciate all that I am so fortunate to have...but why do I have to continue to remind myself that life is good? How come I am not just happy by nature?
I just don't understand. How come I have been a yo-yo dieter that tells myself I can never get fat again, only to allow food to rule my life again.
This time MUST be different. Every day for the rest of my God-given life I have got to choose happy, I have got to choose healthy. I have got to choose being the best person I can possibly be. I have to learn new life skills and continually remind myself of those I have already learned. I must accept that sometimes I will fail, but I am not a failure.
I guess successful life skills are like our physical bodies: use them or lose them. I am not going to lose my happiness again...the moment it happens I must remind myself of what I have repeatedly forgotten. LIFE IS BEAUTIFUL!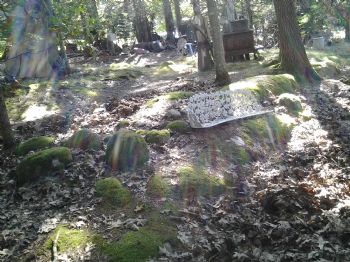 A peaceful spot in Maine.