3 RAOK Suggestions for Today
Sunday, October 07, 2012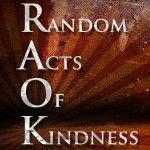 What is RAOK? It's Random Acts of Kindness.
So here are the three suggestions:
*Send a card to someone in the military

*Give a compliment about your waiter/waitress to their manager


*Be nice to your siblings

__________

If you want....make some more suggestions in the comment section or give an account of what happened when you did one of these suggestions.