Sunday, October 07, 2012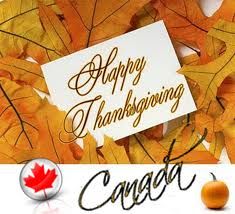 HAPPY THANKSGIVING TO ALL MY CANADIAN SPARK FRIENDS!
Of the many things I'm grateful for on this beautiful, fall weekend, the friendships and support of those I've met here on Spark are certainly toward the top of the list. I appreciate each and every one of you.
Be thankful every day you can rise, eat, move, think ... and be ever mindful of those who cannot.
Happy Weekend, All!