Yesterday was a wonderful day! My husband and I did our "fall clean up" on the yard. This was the first year we have ever put any effort into our yard looking ultra nice. Last year, we had the most terrible drought I have ever seen in my life; 100+ temps each day, and we didn't have a drop of rain from November 2010 until August 2011. With that type of weather and the horrific jobs we had, it was just easier to let the yard turn into a desolate desert!
Yard work has been a true therapy for me that I never realized possible. When I quit smoking in February, the weather was getting warmer and although I desperately wanted to be outdoors, I knew that just sitting out there would be the ultimate temptation as I had always smoked outside. So, one day, I decided that I could keep my hands busy and be outside if I would just make the yard look halfway presentable. Plus, I knew I would get an awesome workout! Thus began my journey into a wonderful world of gardening, planting, watering, mowing, raking, etc. What's more, is that doing something so productive that cost far less than my $172/month smoking habit, gave me something to be very proud of and while my lovely yard grew, I was also growing and changing for the better.
The funniest thing I discovered in my yard most recently (and I have been monitoring) is this mystery vine that began to grow near the side of my house. At first, I thought it was another zucchini plant, because we had planted some and I just assumed a little birdie dug up a seed and planted it over there. Anyway, as time went on, the leaves looked distinctively different than those of a zucchini plant and it was shooting out like a ground covering vine. I remembered that we did have a pumpkin last fall that my hubby had thrown in that corner once it started to rot; he had explained to me that it would be good for the ground to let it rot. What we never guessed was that it would take root and grow a pumpkin patch! haha! Anyway, I got my proof of the mystery plant this weekend when I was able to observe a beautiful yellow flower. I googled "pumkin flower" and sure enough--I have a pumpkin vine growing!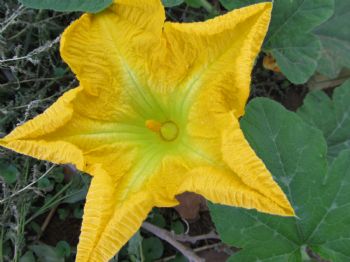 We spent a good 6-8 hours yesterday working. We have battled weeds of every kind (due to the drought last year and lack of cold last winter). But, we finally have some very lush patches of grass growing. Our roses are just about to burst open with fall blooms (will attach a picture of what they will look like, taken earlier this summer). What really amazed me was the beauty of the morning glories I planted. They are breathtaking! I have pinks, blues, and purples! Got the yard mowed, picked what seemed like thousands of weeds by hand, raked both the front and back yard, edged out and weed-eated, put away all of the front porch adornments, swept the sidewalks and porch. Needless to say, I can definitely feel my obliques and arms and abs and legs....basically sore all over! But, it's so worth it and I look forward to see how much our improvements will show next spring.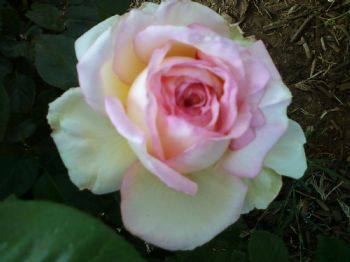 Just one of the lovely varieties of roses we have.
Lovely blues and one pink morning glory. :)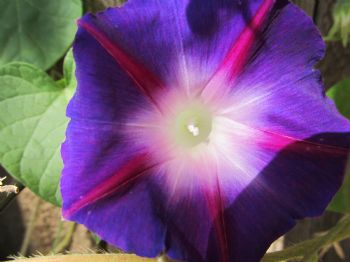 A beautiful purple morning glory.
If anything more develops with the pumpkin, I will surely share. Blessings to everyone!