No, this was not the marathon I did in March. Not the half Marathon I did last December. It wasn't my first 5k or my second or even my third.
A few weeks ago, I walked a 5k race with my students. Why was it so hard to finish? Was the distance too long? No. Was it raining, hailing, 100+ degrees or any other extreme weather? No...
It was the hardest for me to finish because mentally I just wanted to quit.
I walked the entire distance because I'm still not cleared for running by my Physical Therapist. Soon, just not yet. It's still hard.
Our bus was late and we arrived 20 minutes late--still in time for the start but my group went on a 15 minute warm up run...I waited for them.
I felt kind of disappointed, frustrated. Here is my non-smiling face!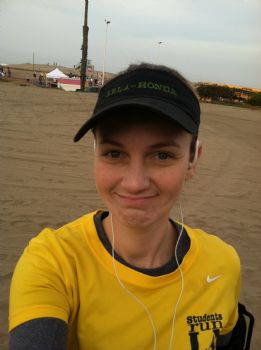 I found the group of parents who were waiting for the students. They had gone in separate cars and were waiting with the bibs.
By the time I got to the start line some workers/volunteers had taken it down. So, no tracking of my time.
I asked one of them "So, my time won't be tracked?"
"We were told to take it down" they responded
Another adult who arrived at the same time was disappointed too.
I started my running app to track my time. I maintained a 13-14 minute mile walking pace. When I got to the end of the road there was a turn around. A coordinator asked me "Is there anyone behind you?" I looked. There wasn't. I felt this sinking feeling. I am actually last. They say you can never be last in a race. I was.
I took pictures of the runners coming toward me (it was a loop)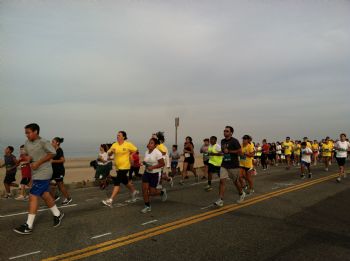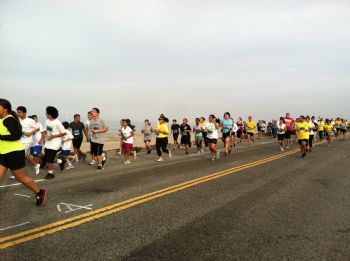 I fought the urge to run. I fought the desire to cross the line and not make the full loop. I fought with myself to just quit and walk down the hill to the finish line.
"Walking 5k is good exercise" I told myself. Keep walking, steady pace. The idea of tracking my walk in my fitness tracker helped motivate me. Also, that I had told my Spark friends I would be walking a 5k helped me stay motivated, accountable as well.
You helped me keep going! Thank you Spark Friends!
It was a hot morning and I was tired. I approached a water station, maintaining my steady walking pace.
A volunteer stood in the middle of the road with a cup of water. I was fast approaching.
He walked away from me and offered the water to a little girl standing with her family on the opposite side of the road. Apparently, I didn't look enough like I was a race participant, given my walking pace. I was wearing a bib! I can't believe he did that. I fought back tears. I should have said something. I didn't want to walk to the opposite side of the road to get a cup of water. The table was stocked with full cups of water. I didn't want to take extra time to walk across the road and stop for water.
I kept walking. Eventually I passed someone pushing a stroller. I smiled at her. I kept going. I passed someone else. I kept walking and passed more and more walkers, runners who had spent their energy and were now slowing down. I kept going. I started to feel better.
I approached the finish line. Such a welcome sight.
A runner who had finished the race and was mulling around offered to run me in. "I can't run." I told him. "Sprained ankle" That's not the full truth. The full story is that I sprained my ankle multiple times in the last 10 years and it had never fully recovered. I'm doing physical therapy to get it strong, flexible. It has shown huge improvement in the past few weeks. It no longer makes the cracking sound it had for all these years, and feels mostly like a normal ankle. I had just accepted the weakness and stiffness and cracking. But that is not normal. I'm so glad I'm getting treated for that old injury and my shoulder injury that is three years old. But I didn't tell him that. I just smiled and kept walking.
I crossed the finish line and my some of group saw me and cheered for me.
I felt such a sense of accomplishment. I didn't give up. I didn't give in to the voice that told me to quit. I kept my steady pace. I looked at my tracker. 42 minutes. That is better than my first 5k race I jog/walked! I used to jog/walk a 16-17 mile pace and this was a 13-14 minute pace!
After the race, we went down to the water. My students were so happy!
Here they are!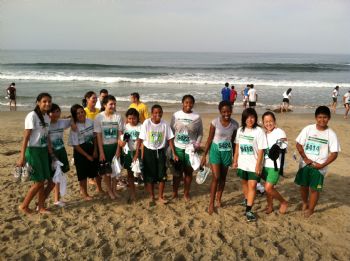 Here is a group photo. I am crouching down on the left side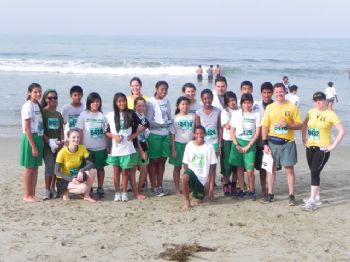 Here I am with a fellow leader from our group. She is so positive, encouraging, a very experienced runner who has completed several half marathons and full marathons. She taught me about fueling and has been a great resource for me.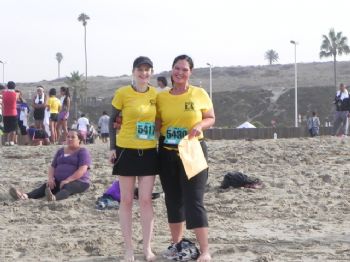 This race was hard because I felt such a strong urge to quit. I couldn't run and was last. I feel proud that I finished the race, kept going in my own way. I didn't run it but that doesn't make this race any less important than any other race I've done. In fact, I feel like this race was the hardest because mentally, I really had to struggle with myself. I won this mental battle.
So much of our journey is mental. Stay positive. Stay focused on your journey. Don't compare yourself to anyone else. You are unique and you can do what's right for you. Don't focus on what you can't do. Focus on what you CAN do. You will reach your goal. It might not be the way you expected. There will be twists, turns, detours, and setbacks, but the important thing is to keep going. One step at a time. You will get there.