I feel like this sums up my life lately. Not only running for exercise, but running around and constantly being busy.
I thought once the kids started school that I'd have more free time, but while they are in school I do my workouts, run errands, do laundry and clean, so that way when they get home we can focus on homework, getting dinner ready and bed time at a decent hour. While I realize that people have it a lot harder than I do in regards to caring for their kids and I am fortunate to be a stay at home mom, it hasn't always been easy. My husband wasn't home much before the last year--when he's had a regular schedule--and after years of rarely getting a break, it takes a toll on you. My son has about an hour of homework each night, and he's only in 3rd grade and that time of day stresses me out. I just feel like I am always alone, and I don't get to get out and do much that's just for fun.
My husband has recently started a new schedule where he is working 6 days a week, from 5:30 in the morning until dinner time every night. He is going to be tired, and I won't get to see him as much, which sucks. This is training for a new job he starts in December, which will come with a pay raise, which we need, but it's going to be hard for the the next couple months, on all of us.
Lately I've found it hard to adjust to my new schedule. It's weird being at home without the kids here during the day. The first few weeks of school I had so many appointments. When you're a stay at home mom and have no one who can watch your kids for you, you often neglect going to Dr appointments and things, so I had scheduled dentist appointments and a bunch of other things like that. I had 2 dress fittings to get my bridesmaid dress altered and hemmed and I just feel like there is rarely time to just chill out.
My half marathon is next month and I basically already finished the training a couple weeks ago. I probably should have done the novice 2 training, because 1 was almost too easy. I started the training early thinking I'd be repeating weeks, when I didn't need to. The other day I did 11 miles, and it was a just a bad run. It was hot and humid, and I have been having insomnia really bad lately again (I think from stress) and I just had a hard time. I took several walk breaks and ended up running out of water and still had more than 2 miles left, and was wiped out by the end of it. I felt defeated, even though I know all runs are not going to be great, but I had an easy 3 miler scheduled for yesterday and got my best time ever, 29:25. I was so proud of myself, since it had been a goal of mine for a long time to run 3 miles in under 30 minutes.
We were in a wedding last weekend, which was a nice time and we had a lot of fun. My husband's little sister got married, and she was a beautiful bride. For weeks before the wedding I was extremely anxious. Money has been tight lately with all the extra expenses, and my husband's tux and my dress and shoes cost about $400. With the kids starting school and needing supplies, and me needing new running shoes and stuff, it's just been tight. Also, going up in front of a bunch of people terrifies me and I was so worried about it. I was shaking a little as a I stood up there and I hoped no one could tell how scared I was. Also, I was very self-conscious about wearing a strapless dress, and I felt like I'd look awful. It surprised me that almost every person who saw me said I looked great, or beautiful. I'd never been told that so many times before, and it made me feel good.
When I saw the pictures from the wedding, I was pretty happy with how I looked. I wish I would have lost more weight this year, but I felt pretty good in my dress once people seemed to think I looked good. I don't know why I always feel like the ugly duckling. It's something I wonder if I'll ever get over.
Jeff and I together at our table.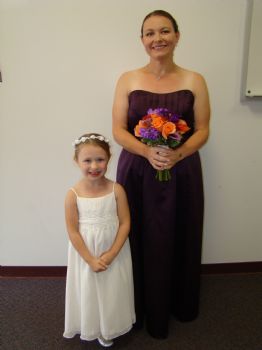 My daughter, Abby, and I...she was the flowergirl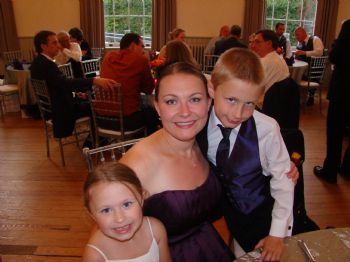 Me with my kiddos...Aidan and Abby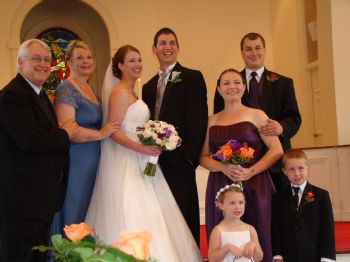 Our family..in this photo are my husband's parents, the bride (my husband's sister) her new husband, and of course me, Jeff and our kids
Anyway, I just wanted to say I am sorry for my lack of time spent on here. It's just been really busy with everything that's been going on and I've been helping out at the kids' school and I feel overwhelmed with everything sometimes. My weight has been between 180-183 for the last month or so. I am hungry all the time from the extra running, so I end up eating extra snacks. I am hoping once the vigorous training is over, things will be back to normal. I am surprised my weight isn't up a lot more from all the birthdays, dinners, wedding food, etc I've eaten the last month.
I hope you're all doing well! I definitely need to blog more. It makes me feel so much better.