A victory for planning! (and a yummy veggie wrap recipe)
Friday, October 05, 2012
The day after kickball….should be the title of a horror movie. I drank waaay too much last night. I'm not worrying about it from a weight loss standpoint because I purposely chose yesterday for my "cheat" meal. I'm more concerned from a health standpoint, I'm getting too old for this!
Today's victory is that despite my hangover and late night falafel excursion, I was able to get right back to my healthy eating without skipping a beat, thanks in part to planning. I knew I'd probably not be in any shape to prepare a lunch last night after the bar (and boy was I right!), so I prepared two lunches on Wednesday. That way all I had to do this morning was grab my lunch and go.
For lunch I had this yummy veggie wrap which consists of:
1 flour tortilla
2tbsp roasted pine nut hummus
1 carrot, julienned
½ cucumber julienned
Handful baby spinach
1oz shredded mozzarella cheese
Handful alfalfa sprouts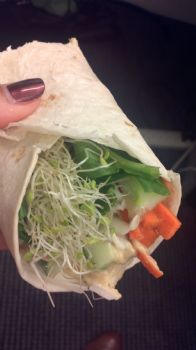 It's the perfect combination of crunchy, fresh veggies and savory flavor from the hummus and cheese. Loved it!