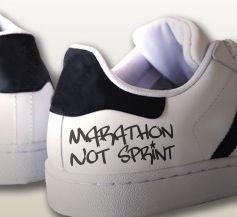 Ok. So we are in a marathon. Not a sprint. It is going to take time. I think I am starting to get it.
I am not a runner. Never have been. Don't run. Ever. Yet, I find myself in a marathon. A journey toward better health. And I am beginning to see some of the similarities between this and an actual marathon.
I have a friend who is a marathon runner. In fact, his lifetime goal is to run a marathon in all 50 states. For real. (As a non-runner, I will probably never get that. Ever. But anyway...)
He recently returned from a race in Washington and I asked him how he did in the race. He sorta shrugged his shoulders and said, "I finished the race." I pressed him for details like what place he took and how fast. He explained that his goal was not to finish in any particular place or in a specific time. His goal was to finish the race. Period. Everything else was gravy.
As I thought about it later, a little light bulb went on for me. It's not a race against anyone else. It's not even how fast I get there. It's about finishing the race. Period.
Everybody has a different goal. That is YOUR race. I have to run MY race. My marathon. Just like my friend, I have to prepare myself physically and mentally. I have to practice and train and do the work, day after day, week after week. Tracking my nutrition, drinking water, exercising...I'm sure there are days he doesn't want to run. And there are even days when he may want to quit on his goal. Because it's hard work. But he keeps doing it because in the end, he gets great satisfaction from reaching his goals.
And he doesn't have just one giant goal. He has 50 smaller goals within the big goal. So every time he crosses off another state, he can see the progress. And I'm sure there are many, many smaller goals he sets in preparation for each of those 50 goals and so on. Setting achievable smaller goals is an important part of reaching the ultimate goal.
I've never thought of myself as a runner. Still don't. But, I see that I AM in a marathon. And I can't finish if I don't take all the steps necessary. That means doing the work every day. Setting small and intermediate goals along the way and never quitting on myself because I am working toward a goal and...
Quitting is not an option.