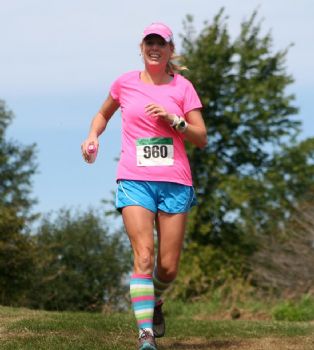 I responded to another members blog yesterday who is having a rough time navigating through her mother's illness. My heart went out to her since I have recently experienced the same emotions.
She described how her races were directly effected by what is going on in her life and her mothers fight. She had a recent marathon when just finding out her mother was very ill. She knew her Mom was not going to give up her battle, so she would not quit this race. Her inspiration was from her Mom's strength.
I recently had a similar race. It wasn't a marathon, but a small weekly 5k trail race.
I lost my mother 49 days ago. We recently found out two days prior that she had lung cancer that had already metastasized to her brain and she didn't have much time. Two days before she died, she was often confused. I leaned down to kiss her and tell her that I was going to my Catamount race and I would see her in the morning. She said to me (whom she thought was a nurse) "My daughter runs and I am so proud of her" She had never told me that before! She had always lectured me in the past about all the bad things that could happen when I ran. She worried that something would happen to me, much like many mothers would do. She watched my progression of weight loss and had few comments only to tell me not to lose too much. She would tell me that I am too skinny, when I was actually at a perfect weight. When I ran my first marathon, I swear, she held her breath for the whole 4 hours and 45 minutes until she found out I had finished and was ok. She was like that! It made me frustrated so I held back my excitement when I was around her about my transformation and running adventures.
The Tuesday night that she told me those magical words, I went to that 5k trail race stumbling along, often sobbing hunched over, but I couldn't quit. Her words just kept going through my head, so I kept going. My body heaving with a heavy load to bear, and my heart breaking with every step I took. It was a miracle I stepped over the finish line. I had to escape somewhere where other runners could not see my tears. I went up the hill and cried looking at the majestic views of Camels Hump.
My husband knew the story and found me. He was there to fold me into his arms. I have no idea what my time was, but I didn't care. I ran that race for her. A very small race was the most important race of my life.
Now, when I feel like quitting in a run or race, I remember those special words, the last gift that my mom gave to me, and I keep going.
My new inspiration, my Moms life, and her never ending love and pride she had for her daughter.