Wednesday, October 03, 2012
An absolutely perfect day.
Killed it at cycling. Had a decently productive day at school. Went a bit over calories, but I am getting closer. I really do need to come up with something new because I have been going over like crazy. I saw a high number on the scale (precluded by a weekend full of drinking, eating away a hangover, and not doing anything resembling physical activity).
But. None of that matters.
Why?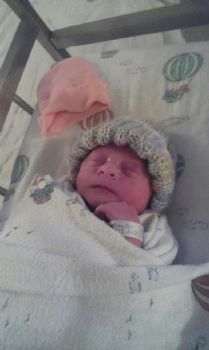 Because this darling little girl was brought into the world at 5:45 pm, weighing approximately 4.8 lbs. After a bit of a rough start (my sister in law was induced 1 month early because the baby wasn't measuring right, when the heart rate dropped low they had to rush to C-section. Turns out the cord was wrapped around the baby's neck). But everyone is happy an healthy.
World. Meet Aryanna Jade. This auntie couldn't be prouder and I can't wait until the end of October when I can make the long journey home to meet her!
Anywho. I am going to work on some goals. And some plans. And revisit you all. I just wanted you all to see one of the new lights in the world. I am literally bursting with excitement. My cup runeth over.