Unfortunately it looks like the Sparkpeople site can't process my video - but you can still view it on
www.youtube.com/watch?v=
zRyui69vGwM
EDIT: Amazing - it took over 2hrs to process - but the video is up here now!! WooHoo!!
The story of our day in Brisbane told silently in pictures and video
A few days ago I met a Sparkfriend (Millymouse1) in Brisbane. Between us we were carrying four bags, and quite a weight – however, since I need help to walk reasonable distances I had bought my walker – and so we used it as a luggage trolley.
We decided to go to Roma St Parklands which was just by the station we both arrived at, in Brisbane since neither of us had been there before and maybe it would be nice enough to take photos to show you all!! .
I have put a selection of my videos and Millymouse1's photos together to form the video story above.
You will see Millymouse1 in several shots in the video – she has a white shirt and black trousers.
Below I have cut a few of the photos from the video to tell of our walk.
The Parklands are on 3 levels – and we took the lift (elevator) up to the middle level and had a cup of coffee – with a very friendly Eastern Water Dragon. We discovered a few more in the area – on the rocks but one was very cheeky.
The others stayed on the rocks a bit away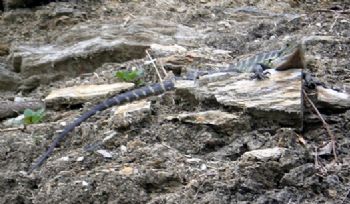 There were lots of them in the park – and apparently they are well known as being there.
After coffee we decided to take a walk as we had promised another Sparkfriend some pictures – but where we were it didn't look very hopeful – after all we were in the centre of Brisbane – a large city. We decided to take the walk that went slightly up – as it would be easier to push the walker full of our junk (4 heavy bags between us) uphill when we were fresh, we might find a view worth photographing from higher too!!
Then we turned a corner and flowers – heaps of flowers everywhere – beautiful gardens all in bloom – its Spring here.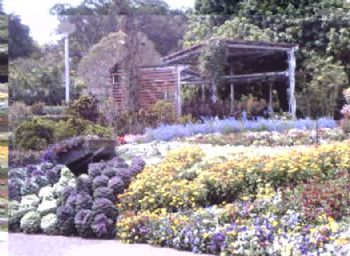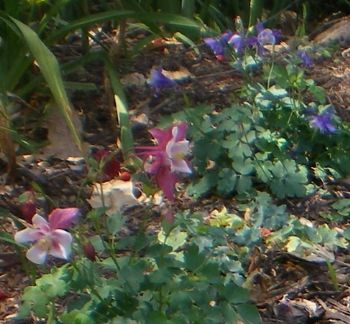 One bed was full of beautiful, various coloured Aquilegia.
We even found a scarecrow was called Herbie!! You will see his picture on the video.
And we found water features too
Water steps and fountains and waterfalls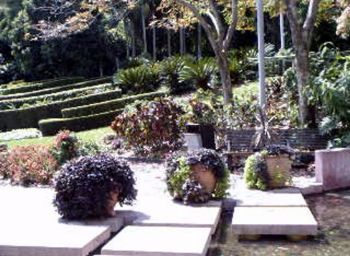 And stepping stones – most people went over them – but since the walker wasn't fitted with floats – I turned back at this stage!!
Then we found a little train that was giving free rides round – I asked if we could fix the walker on the tow bar but they refused – so Millymouse1 went round for a tour while I caught my breath.
You can see her on the train waving!!
By then it was time to head back for a very late, but delicious lunch before we had to part – Millymouse1 back to her rellies and me back home.
But we had made wonderful memories of this parkland right in the centre of Brisbane – with very few people and an oasis of tranquillity, colour and perfume!!