Okay, maybe not that little, but I love, love, love my magic helper. I am talking about my awesome food processor. I thought it would be time to introduce 'him'-maybe I should give him a funny name

- to everyone. I got this food processor over two years ago, but haven't used it too much until about christmas time last year. Before I got it I always heard people talking about the TM31 and I really had no clue what they were talking about. I just knew they were all obsessed with it. So I got curious. And what do I do when I get curious about something? I ask my good friend Google. There I found many websites with recipes and experiences and I noticed that there were hardly no bad experiences at all. Instead of having my curiousity satisfied, I got anxious to find out more and looked for the stores I could buy this mysterious machine. Surprise, surprise- you won't find this mysterious machine in a store. How on earth will I be able to look at it or even try it out? Well, it's basically the same as with Tupperware- you go to a party. Fortunately, I told my mom about the TM31 and she told me that she knows someone who is a consultant for it, although my mom didn't know much about it either. So she called the lady and at the same day we went to her house and I met this awesome machine for the first time. The lady showed us how to make an iced latte (it is still one of my favourite recipes) and I was convinced. I filled out the form to order it and so did my mom. HA the lady was a pro. She answered all of our questions and offered us to host a party at my parents house as soon as they arrive so she could explain everything to us.
It took like two weeks until my magic helper arrived. Of course, I had to try it out right away. I think it was something like love on the first sight.

I have tried so many new foods and recipes with it and until today Ihave loved everything I have tried with it. You might ask yourself what is so special about my magic helper since there are so many food processors out there which are great, too (and which don't cost that much-but it is worth every penny

). My magic helper can do all this:
- weighs - with built-in electronic scales
- grates - nuts, cheese, chocolate
- mills - rice, grains and pulses to flour
-purées - vegetables, fruits, baby food
- grinds - coffee beans, sugar to icing sugar, wet or dry spices
- blends - soups, smoothies, milkshakes and sauces
- cooks, boils & simmers - soups, sauces, preserves, complete meals
- steams - vegetables, meat, fish, fruits, rice, pasta
- crushes - ice
- whisks - egg whites, cappuccino-style foam on soups and milk
- emulsifies - salad dressings, mayonnaise, batters, cream
- kneads - bread dough, pizza dough, pasta dough, pastry, scones
- chops & minces - nuts, herbs, vegetables, salads, meats
- heats baby food to 37Celsius
- holds chocolate at 37Celsius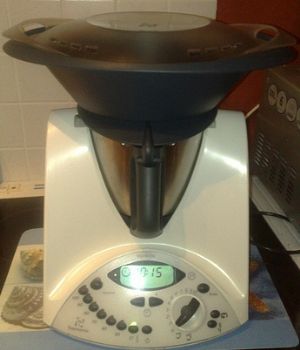 So that was the story of my magic helper. I am glad I have it because it makes eating healthy so much easier