3 RAOK Suggestions for Today
Wednesday, October 03, 2012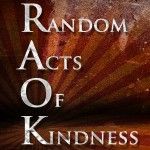 What is RAOK? It's Random Acts of Kindness.
So here are the three suggestions:
*Tell a joke to someone wearing a frown
*Offer to take your neighbor or friend's dog for a walk for them that day
*Pick up a piece of trash from the ground instead of stepping over it
If you want....make some more suggestions in the comment section or give an account of what happened when you did one of these suggestions.