Wednesday, October 03, 2012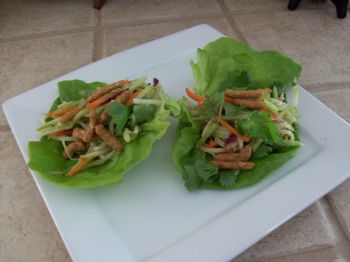 My evening meal last night consisted of 5 of these. Crisp Bibb lettuce leaves filled with broccoli slaw, a touch of mango ginger dressing and sesame sticks for more crunch. So good. The amount of "chew factor" makes the meal last longer and satisfies me. But lo and behold when I read my daily report last night, those darn sesame sticks added too many bad things to my daily intake. IE, fat, carbs, sodium, etc. I should know better, those processed foods will get ya every time. Sometimes I just don't think about what I might be eating until I see it all broken down. I love this about tracking food on SP.
Next I'll use raw almonds instead of sesame sticks. And the bag of sesame sticks is in the garbage right now!