Is this MONDAY????!!!or terrible no good day!!!
Tuesday, October 02, 2012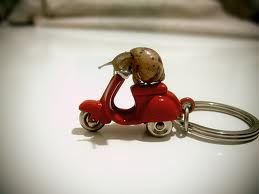 Yep one of those days...like a snail on a scooter going round and round and not accomplishing a thing..It started with the phone....
Ok had talked last week to my sister about meeting today..and then last phone call I got was Friday when the youngest son called before they came out..have not had a phone call one all weekend which is sometimes not unusual. I had called my DIL this weekend but just not gotten a call..so didnt' think a thing about it..but was wondering why my sister had not called me back to firm up our plans for today. I'm thinking she just didn't want to meet and therefore was waiting for me to call her so she could make excuses...(btw she does this some)..so I'm a little hurt and mad but decided to go on over to the big town to Sam's as I needed to pick up refreshments for an art guild meeting tonight..decided to call the DIL who lives over there and ask her to meet me instead..she never would answer her phone..so went on to Sam's and picked up a cute skooter skirt for Miss Molly and decided to just drop by their house (same DIL I had called) and surprise them as thought maybe her phone was being charged and wasn't ringing or something..Now you have to know me and phones don't get along anyway..I don't do internet or even texting on them..basically just use it for calling and receiving calls..And my husband and my phones are new straight talk phones..so get to the DIL's house and noone is home..so thinking she forgot and had gone her merry way for the day..so drive on home and go to the local grocers and decided to call my husband who had gone a different direction this morning..and got a message saying there was no connection to his phone..then my mind starts working..though still thinking that it is because he is driving through a dead zone which we have many between here and there..so still thinking then maybe just maybe something is wrong with our phones..so call other DIL and she answered..had her call me and nothing..so called her back and she said she got message that there was no service...same as I got for my husband's number..so then call the other DIL I had tried to go see and she answered...she had forgotten her phone in her car that morning and got called into work at the last minute..she said since she had called me and got the message that there was no service on my phone, she had called my sister..which then got my sister to worrying that something might be wrong..so by then I'm driving home and that is one thing I don't do and that is use my phone while driving...almost home and get a text message..I pulled over to the side of the road and see it is from my sister..so called her from the side of the road..she told me she had called me all weekend and got the same message all weekend and even tried my home phone and couldn't get me..well I had never heard my home phone ring..so got home and explained to hubby what had happened and he tried to call my phone and got the same message as I got trying to call his..and since the home phone is not connected to any of that, went to check it...it was unplugged...ok that riddle was solved but our cells were another problem..so called straight talk and they give the automated spill that I could wait up to 20 minutes or they could call me back when an available rep could talk to me..well had to wait as knew they could not ring me..waited the entire 20 minutes..and finally got someone..with accent..and be being hard of hearing and bad vision and hard to see the tiny numbers on the phone...muddled through all their number pushing and finally got my phone to work..this took about another 20 minutes..so while I had him on the phone, I got my husband's phone and we did the number punching and never could get his to work..we worked on his for over 30 minutes..with no cure for the problem..me trying to be patient..so finally they said they would check things out there and try to reset everything and if it didn't work in 72 hours...yes 72 hours..that to call again and they would probably send out a new phone..
Go to cook lunch..decided I wanted cooked cabbage and immediately burned it..now if you know what cabbage smells like cooking think BURNED cabbage..pheweeeeee. threw it out and have the pan soaking with a bounce sheet..made slaw with rest of cabbage and hubby grilled potatoes and steak..ah when things go wrong..it all goes wrong..Just hope I made it to the art guild meeting with nothing else happening...going back to riding in circles..Have a good one.