Hah! Not the kind of pics you might think.

I'll talk more later about diet and exercise in another blog (all is going pretty well), but wanted to update about what has been consuming my life over the past few months: my dog Dugan's tail.
My dog developed hair loss on the tip of his tail a little over 2 months ago. Then he started to act as though it hurt when he was wagging it. I noticed he started to chew at it, so I put the cone of shame on him, hoping that the issue would resolve. He seemed better after a few days, so I removed the cone. He seemed fine, but then a few days later, I came home to blood spatter on the walls and a wound on the tip of his tail. It looked as though it had been chewed.
I took him to my friend's vet clinic, and the tail was bandaged and he was started on antibiotics and painkillers. We assumed it was happy tail, which dog's can get from whacking their tail to hard. Happy tail is an incredibly frustrating problem to treat. It is difficult to get the tail to heal, and then the problem often recurs. If the tail does not heal, many vets opt to amputate.
We did weekly bandage changes, hoping to see the wound heal. After several weeks, the wound looked no different than it had at first. Dugan also seemed to be in increasing pain. We figured he may actually have nerve damage in the tail. I felt terrible for him. Dugan is the most cheerful dopey dog ever, and he just moped and acted painful, sometimes to the point where he was trembling.
When we saw the wound was not healing, I started looking into my options for amputation. I was hesitant to amputate, partially because I was concerned about creating a new problem with a new wound, and partially because of money. Luckily I have many veterinarian colleagues, so I went to another clinic where the surgery was relatively cheaper, plus they gave me a professional discount. Dugan had his amputation this past Tuesday and of course he charmed everyone at the clinic with his happy-go-lucky grin. He seemed a little painful the next day, but then he really perked up on Thursday. It was actually the first time in a few months that he seemed like himself. I removed the bandage yesterday and everything looks good. Dugan seems oblivious to the fact that he doesn't have a tail. He will need to wear the cone of shame for another couple of weeks to make sure the tail is completely healed, but then I am really hoping that is the end of that.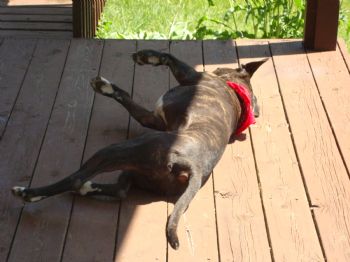 Dugan with tail, taken a few months ago.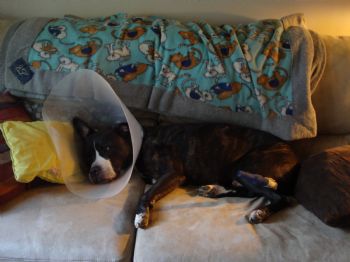 Poor dog...he's been wearing the cone of shame for about 2 months. He actually LIKES it now, guess he's grown accustomed to it.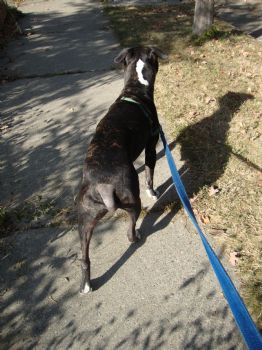 Dugan 4 days post-amputation. Took this picture yesterday, after removing the bandage.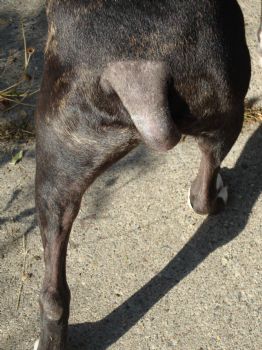 Close up of "da nub."
I would have never considered cosmetically docking my dog's tail, but it sure is cute when he wiggles his butt now. I am happy to actually see his wiggly self return. He actually seems like he is not in pain for the first time in months. So, I hope this ends this tale of happy tail. Now my dog has happy butt!