Five years ago, Jan. 20, 2007, my husband and I planned a small romantic wedding ceremony. It was doomed from the beginning. We were on an uber tight budget and so I ordered my dress online. I visited the store earlier in the year and found the perfect dress. I waited for it to come on sale and then snatched it up for 75% off. After about a month of anxious waiting it finally arrive, TWO WEEKS BEFORE THE CEREMONY. I open the box to see that that had sent the WRONG DRESS. Too late to send it back, too late to order a new one. The company refunded my money and "gifted" me the dress I didn't want. I wore it out of necessity. However none of my accessories matched. The original dress was floor length (winter wedding) and some black details. I purchased shiny black shoes since they were dirt cheap and no one would see them. The dress I received was tea length and ivory,,,,NO BLACK. I wore the shoes only to walk down the aisle and immediately took them off=(. The minister we hired, a dear friend of ours, was going through a rough patch in his life and showed up drunk. He slurred our vows which was embarrassing but we made it through. Dinner and cake was AWESOME. Family came through with this one. When it came time for the dancing, we made it through the first dance and the mother-son dance before my ex brother-in-law, professional DJ, whom we paid half his going rate, got into a fight with my sister and packed up all his equipment while my husband and I were making our rounds. I never got to dance with my father, we didn't get our dollar dance. We ended up hooking up a CD player we found into the intercom system and listened to the radio. I was in tears the majority of the night and actually left my own wedding early. Fast found six months. I need a copy of my marriage license and can't find mine. I go up to court to pick one up only to find that our drunken dear friend minister NEVER TURNED THE PAPERWORK IN. For 6 months I had been using an illegal name. We have been trying for the past 5 years we have tried repeatedly to become legal but something has always happened. Applications were misplaced by the court, ministers refused to marry us, job losses, everything.
Finally, last week my husband received a surprise bonus from work. Over $800. I decided that I would try one more time to get this marriage legalized. The paperwork went through without a hitch. The minister volunteered, since he married my sister. Everything fell into place and today at 1:00 pm we FINALLY legalized our marriage in front of my parents and two of my dearest friends. It was small and cold but beautiful. We will be having a celebration next September with all my family and friends.
My parents treated us to lunch at my favorite restaurant. I had one cup of pop and then drank water the remainder of the time. I ate a large salad before my meal arrived to ensure I didn't eat too much bad food...not bad food, EXCELLENT HOME COOKED STYLE FOOD.
My best friend and witness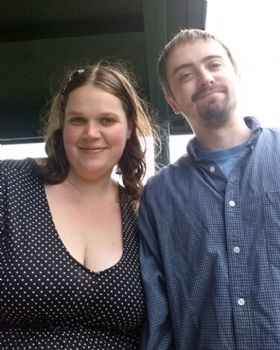 Best friend's fiance' and witness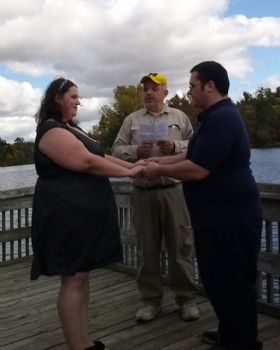 Exchanging our vows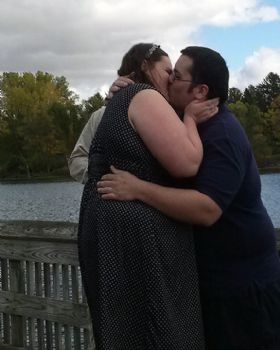 At this point, I screamed FINALLY and let out a sigh of relief,,,nothing came between us and our wedding this time.