Here is your view today, kids: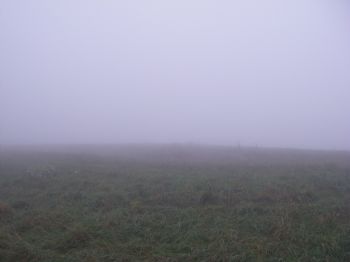 What a view!
Yesterday was long hike day in the mountains since it is the weekend! We decided that we would hit part of the Appalachian Trail since it isn't too far from home (about 2.5 hrs away) and we want to start "practicing" for our section hike next Spring. And I promise that if I find the person that does the forecasting for weather.com, I am going to beat them with my trekking pole. Evidently 30% chance of rain equates to 100% chance of rain. Nothing on the radar except a patch here and there, no where near where we are going until we get up there then the area is ALL green. Oh well, we drove so far, we might as well hike.
I figured hiking in the rain would be good practice for our section hike, because once we start the section, we can't take a day off because of rain. We have a specific time goal and mileage goal. Today's route was Max Patch to Lemon Gap (almost). About 6.2 miles one way so about 12.5 miles out and back. We only made it 4 miles in due to time and the fact that we didn't want to get stuck in the woods, in the dark, in the rain on an already slick trail. This really is a nice and easy trail with nice ups and downs or the part we did anyway, except for all the danged roots. Roots everywhere. So I went down the path saying "rooty tooty fresh and fruity" (from the IHOP thing). My husband was ready to kill me. It passed the miles.
The views are supposed to be outstanding from the summit of Max Patch Bald. The photos I have seen on the internet are splendid. Too foggy today for any of that. We didn't bother going up to the summit because our visibility was about 3 feet in front of us.
I was really pleased with this trail and the ease of it and the fact that I was on the AT, lol.
My very first white blaze!!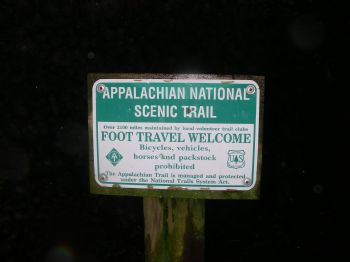 When we got on the trail, it was just a light misting, around a mile in, it really started to rain. A nice steady rain after the initial downpour. It really wasn't that bad other than my feet being wet, but at least they weren't cold and wet.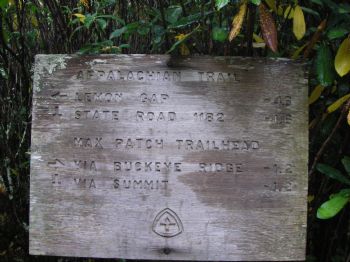 About 2.5 miles in we reached Roaring Creek Shelter and stopped for lunch. There wasn't anyone at the shelter so we had it all to ourselves. As soon as we stop, the rain stops.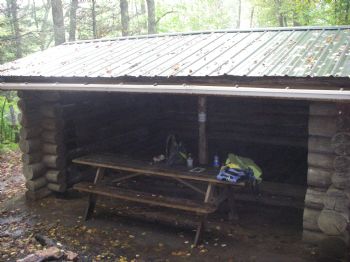 My husband was amazed by the privy. He has never seen an outhouse before lol. His amazement ended when he actually looked at it, haha.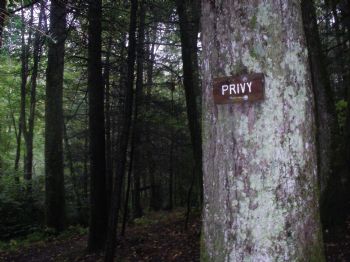 We rested and had our lunch, then headed back down the trail. Of course the rain started back shortly after we left the shelter.
They have these little narrow foot bridges over some of the creeks. I am afraid of heights. I am afraid to climb on a step ladder. This is higher than a step ladder I am certain. But I did it.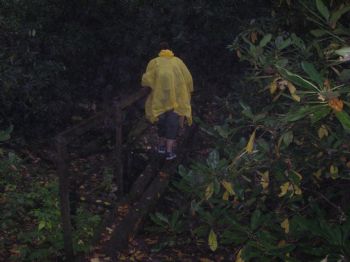 I was loving this hike and I am sure that we will do it again, preferably on a day with no rain!
At mile 4, it was almost 4pm so we decided to turn around as to not get stuck in the woods when it got dark. We stopped back at the shelter to take a water and snack break. There were 2 SOBO (south bound) thru hikers staying at the shelter. We talked with them a few minutes and headed on out. I really wish at that time, I would have stayed a little longer, actually sat down and ate a little more. I hadn't sat down since the first time we were at the shelter. We headed back out to finish our last 2.5 miles. At mile 7, I hit a wall. I swear I wanted to crawl to the car. Actually I wanted to lay out in the middle of the path and die, but seeing how that is not productive, I trudged on.
My biggest mistakes today were not eating regularly and not sitting down and taking a break every few miles. I don't think that it would have matter if I had sat on a wet tree stump, rock or even the ground. I was already wet from where my poncho didn't cover. I also found out that I need to eat about every 2 miles to keep up my energy or I run out of "gas". I ate at mile 2.5 and mile 5.5. Definitely was not enough to keep me going. I always wondered what runners were talking about when they talked about hitting the wall, well now I know and I don't ever want to do it again. It is horrible. But these are good lessons to learn on day hikes instead of learning them during the section hike. And I am seriously glad that I only had a mile to go. But I made it out and to the car where I changed into warm dry clothes and jacked the heat up to high!! We hit a McDonalds on the way home and I swear I earned every calorie!!
My legs and feet hurt really bad last night. I took a hot bath and some ibuprofen this morning and haven't hurt since. Not really sore surprisingly. I figured I would feel like I had been hit by a truck this morning.
I can't wait to do this hike on a sunny, clear day and do all the way to Lemon Gap. Even though it was raining and I ran out of gas before getting back to the car, it was a good experience and it really was a good day considering the crappy weather.