OK. I hit rock bottom this week. I cried every single day. It is like all the grief and loss of my life hit REALLY hard. Ranging from the loss of my mom due to Alzheimer's, a long standing painful relationship with another family member, my youth, my cat, and so on...spending time with my dad for several days, and having him share so much with me about his loneliness, his fears and so on....Visiting relatives I hadn't seen in years, and looking at the sadness they had in their lives, plus just being in the geographic area which stirred up memories of painful childhood events... SO much introspection. Good in some ways. Dangerous in others.
When I got home from my trip, and my hubby was still out of town, I realized how empty my life felt. My son, the grandkids, were also out of town. My cat was gone and I just couldn't get a handle on this horrible depression that I was feeling. So what did I do? Nothing. I slept. I cried. I whined a lot and I over ate. (NO sugar or "bad" foods....just too much of a good thing)
So just when I began beating myself up for being such a fat lazy slob, the phone rang. It was Whole Foods, telling me I won a drawing and got a free back of food! (GOOD thing) and I made the decision to immediately get a new kitten. NOT to wait until the heartbreak had resolved. My house felt too empty. And then, my husband showed up several hours earlier than I expected! We even had time to go kitten shopping. SO last night, the turn around.
I slept nine hours. Glorious deep sleep. And awakened today with energy and optimism. We headed out to find the "right kitty". After looking at 20-30, and just not finding it, I was wondering if it really was the right thing to do. THEN....on another internet search, I saw the SPCA was having a $.99 sale. All cats/kittens. $.99. Including vet exam, neutering, shots, microchip, deworming AND a 2 pound bag of food! How could we pass up that deal! So we drove 25 miles to see what they had....and as soon as I saw this wild thing in the kittie cage, I knew. He isn't what I wanted, really, but he called me. He's having his little "surgery" on Tuesday, and then we pick him up. He's about 8 weeks old, and quite the spunky guy. But settles down quickly and the purring begins...
Only when I told the animal keepers that I had just lost my baby...but other than that, I have gone for over 8 hours without crying. And THAT feels good.
Hubby and I went out for DELICIOUS Chinese food tonight. Ordered two dishes, and brought the majority of it home. So not TOO bad and probably close to being within the calorie range today.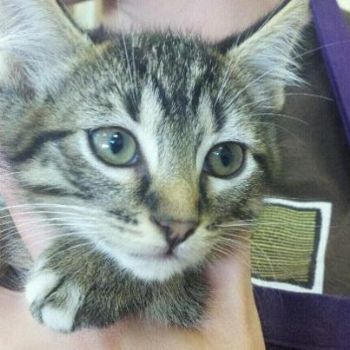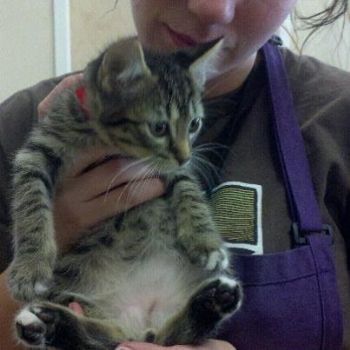 Here he is. Now the challenge of finding his name...I know he'll help me out there....