Saturday, September 29, 2012
The other day I mentioned that I will not have any specific goals for October. I will focus on my new lifestyle and will try to find new ways/times to work out since the days are getting shorter and it gets colder. Maybe that is one of my biggest fears- that I would quit working out if the weather- let's say- uncomfortable. I just can't afford to give up now since I still have a long way to go and the journey wouldn't get easier if I quit or took a break for a while. So I was thinking how I could get some extra motivation to stay on track. I know I keep tracking my my food intake and my workouts (as far as it is possible) and I love, love, love those trackers on SparkPeople, but sometimes all you need is to visualize your progress. Of course, SparkPeople offers you the option to run reports on your progresses,but to be honest I only get my nutrition reports on a regular basis.
Anyways, today I decided to make a personalized weight loss/work out calendar for every month and I just finished it for October: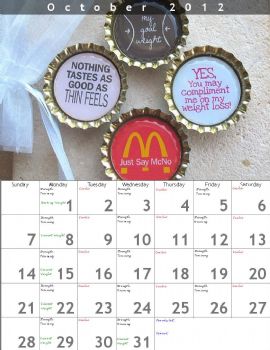 I will print it out tomorrow and hang it on a wall where I can see it every day

I'm not sure if you are able to read/see everything, but it contains my workout days and what kind of workout I am doing and I will weigh in and take my measurements every Monday and also at the last day of October so I can see my progress.