I can imagine a lot of members looking at the heading of this blog and thinking "so what!!"
Well – if you indulge me for a moment I will explain why this is momentous.
In 2010 I was using a mobility scooter – I could only walk a few steps and I had little mobility or stamina. I was working on it – using chair exercises and had lost a number pounds.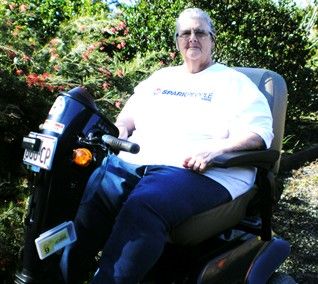 I eventually got myself to a reasonable level of fitness by July 2011 (for a person in my situation) though I still have severe walking problems, caused by severe osteoarthritis in both knees to the extent that they are both bone on bone and have collapsed inward causing me to lose 2" off my height. However by this time I was using a combination of Curves and Chair Exercise
I then had cataracts removed from both eyes – and because of complications could not exercise for 5 months and then I was unable to go back to Curves owing to family commitments. Although I was moving, doing normal household chores, I had lost a lot of the strength I had worked so hard to gain. Then I heard that my Chair Exercise Team Co-leader – Millymouse1 - from the other side of Australia was coming to Brisbane for a few days and I decided to get down to Brisbane to meet her.
Sounds simple (240miles down the road only) – but for me to get to Brisbane – I had to leave home by 4.15am (having got up at 3.00am) drive to town, get a bus for 1hr then the train for 4 hrs getting to Brisbane at 10.00am. I would spend the day with her then do the same trip home (in reverse) getting home at 10.30pm. That in itself is a long trip and exhausting.
So I returned to Curves and together with Chair Exercises I worked my butt off – wanting to lose a bit of weight and gain every ounce of strength I could – I had 3 ½ months to do this before the meeting.
About 2 weeks ago I knew I wasn't going to make it!! Even though I had worked consistently – my weight hadn't dropped – and from the walking I was doing around the shops – my stamina hadn't improved. Depressing!! All that effort and nothing to show – why bother?!! Maybe it was time to give up – to accept that I was as good as I was going to be, I had come a long way before and held that loss – and that my age was against me – after all I am happy, and look ok, compared with before I lost the weight – I just wanted that "little extra". I wanted to lose a bit more, look a bit better, be more "normal" for this special day.
How many of us go through these feelings – and how many actually do give up!!
Read on – THIS is why you shouldn't ever give up!!
Anyway we had thought that we might spend the day at a huge parklands in Brisbane – this would mean a long walk –lugging baggage with us – as I had 2 bags with things I was giving her to go back with her and she had a bag and a computer also – on what could be a hot day. I decided to take my walker – that in itself was an admission of defeat as I had been so proud to be able to walk without it a couple of years ago – a decision that incidentally caused tears from me since I saw it as regression. I hadn't even been using a cane on recent shopping trips.
Yesterday we met up – and decided to go to another parklands nearer to the station – Roma Street Parklands – and what an amazing day we had and I was so glad I had the walker!!
The trip down, though long was as good as it could be. We met up – and piled all the bags on the walker – and headed to the Parklands. The picture isn't so good but you get the idea of the luggage we had – Woohoo for the walker!!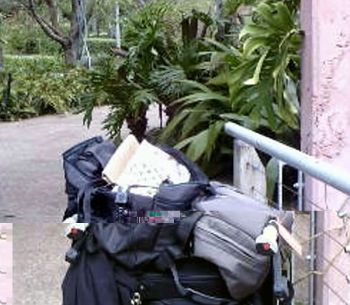 First stop was a cup of coffee at the café by the entrance to the park.
Roma Street parkland is in the centre of Brisbane – and is on 3 levels having been built on the side of the hill.
Anyway when we were sitting talking at a BBQ table outside – we realized we had a visitor

Humm!! He was big enough to be able to give a sharp nip should he have wanted – but they were used to people – and wanted crumbs – not people!! We saw a number of them in the park through the day.
Then we decided to have a look about – we decided to go up first so that it would be downhill back. The paths were all suitable for the walker – so we headed towards where we thought we might get a bit of a view to photograph but without a lot of hope as we were in the centre of Brisbane – but we wanted a photo for a friend.
Then we turned a corner and ahead of us was this amazing vista – flowers everywhere – with a stream running through – incredible!!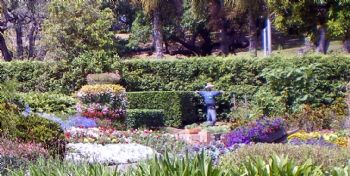 So we took photos and videos and wandered – and wandered – after about an hour and a half I was feeling a bit leg weary but sad to have to stop – I was still pushing the luggage – up and down along winding paths – but the flowers were so beautiful – it was so peaceful, very few people and there were lots of shaded seats where we had a short break every now and then.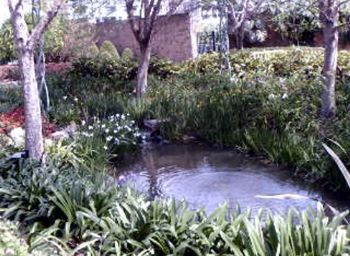 In another blog I will post more videos I took of the views and flowers.
By about 1.30pm I was definitely running out of energy – so we headed back to the café – there was only the one in the parkland area – and had a late lunch – a wonderful Chicken Caesar Salad and a pot of good old reviving English Breakfast Tea!!
More chat – then it was time to head back to the station and for me to get my train and for Millymouse1 to head back for her bus.
I arrived home at about 10.30pm – after a long, tiring journey that was as good as it could be – just looooooooong!!
The next morning I logged my FitBit in – and I had walked 1.3miles – I looked – then checked it again – and looked again – yes – me who has NEVER in my life liked walking , who thought she was getting nowhere fast with all the exercise – had had enough strength in my legs to walk 1.3miles and still smile – no pain – no soreness and to go shopping the next morning!!
I never in my wildest dreams could have thought I could walk 1 mile even – ok – it wasn't solid walking and it was "assisted" in that I had the walker (heavily loaded – no sitting on that for a rest – more like strength training!!) and it wasn't hard, fast walking for exercise, though it was up and down, not flat – but it was still me walking on my own two feet!!
Moral – Never, ever give up – never ever doubt that, if you are doing the work, eating the right foods, making the effort, even though you don't feel different, your body isn't improving – inside changes are happening and muscles are strengthening. You just can't see it until you actually put it to the test and then you realize – all the effort and hard work really pays off!!