The evenings are drawing in sooner, the weather is getting colder and I'm starting to want more comforting foods. It's at this time of year when we feel that we have less time (and inclination) to cook and we naturally crave more substantial, autumnal food. All of a sudden those light salads are no longer cutting the mustard! But before you open that top drawer and try to decide between Chinese, Indian or Pizza have a read of this…It may very well just be the saviour of your diet!
Take away food is quick, convenient and satisfying but it's a guilty pleasure that can be damaging to your diet, bad for your health and leave you out of pocket! There are healthier option take-aways these days, but it's the comforting classics that I want and it's all too easy to order in, get cosied up in front of the sofa and wait for your diet disaster to ring the doorbell.
What if I told you that this week I ate chicken tika masala on Monday, pizza on Tuesday, fish and chips on Wednesday and Chinese beef and broccoli on Thursday? You're probably gasping in horror and getting ready to delete me from your Spark Friends, but before you do let me tell you that all these dishes were my own home-made and remarkably healthier versions of the classic take-away favourites.
I decided that I'd go on a 'make your own healthier version take-away at home' mission, which is why this week I have made and eaten four of the take-away classics. In doing so I have saved time, money and calories. This weeks challenge has shown me that you can have a quick, tasty and convenient meal whilst saving 100's of calories, pack in lots more nutrition, save some cash and still feel wholly satisfied with a home-made version of your favourite take away classic.
Its quicker and easier than you think to whip up some of these tasty meals in your own kitchen. Your home-made version will be ready and eaten before the delivery man has even started his engine. If you've built up a solid friendship with the guy on the other end of the phone at the local take away, then prepare to sacrifice that relationship as these four recipes may very well change your mind when it comes to ordering in.
The Challenge
My take-away made better at home recipes have to meet the following criteria:
1. Convenience. They must be quick to make and require easy to find ingredients (many of which you probably already have in your fridge)
2. Contain substantially fewer calories than the take away version
3. Add more nutrition
4. Be as tasty and satisfying as the take-out version
by golly I did it! Here are my favourite, make your own take-out meals at home. I costed them up too to show you that you'll not only lose pounds off your thighs but will gain pounds in your purse.
Monday - Chicken Tikka Massala
The new national dish of the UK, I made this dish for friends for a movie night. The girls were expecting take out, so I surprised them with this instead.
Time to prepare: 5 mins
Time to cook: 10 mins
Cost of ingredients: less than £4 per serving
Total calories of take-away version: 960 calories (680 for the curry and 280 for pilau rice)
Total calories of the home-made version: 421 (A generous helping of curry served with 45g portion of basmati rice)
Calories saved: 539 calories!
To see my recipe, click here:
www.thedailycalorie.com/
2/post/2012/09/save-over-5
00-calories-on-a-home-made
-chicken-tikka-masala.html
Verdict – Success! Tasted very similar to the real deal, but lighter and less greasy. We didn't have that heavy feeling that you're often left with after eating take-away curry. It was really quick and easy to make too.
Tuesday – Pizza night
Time to prepare: 5 mins
Time to cook: 3 mins
Cost of ingredients: less than £2 per serving
Total calories of take-away version: 200 calories a slice/ 1600 for a 12" pizza (200 calories a slice)
Total calories of the home-made version: 150 per mini pizza
Calories saved (Considering that 3 pieces of pizza is a standard portion as is 2 pita pizzas): 300 calories!
I was eating alone on Tuesday night so a good opportunity to try out my own healthy pizza. Verdict – I loved it. Fresh, clean and healthy food that is delicious and super quick to make. It was thrown together in minutes. Also there was hardly any clearing up to do!
Ingredients (serves 1, makes 2 mini pizza's)
1 wholemeal pita
1 tbsp houmous (made my own, see recipe here:
www.thedailycalorie.com/
2/post/2012/09/5-reasons-w
hy-you-should-make-your-ow
n-houmous.html
)
a few slices of red onion
1 tbsp halved, black pitted olives
1 tbsp of peppadew, chopped (can substitute with any roasted red pepper)
A sprinkle (about 12g) of feta cheese
A few leaves of fresh mint and fresh basil
Instructions
Place your pita in the toaster until heated through
Slice the pita in two so you're left with two circular halves
Top with all the ingredients apart from the fresh herbs and place under the grill for 3-5 minutes.
Sprinkle on your fresh herbs and enjoy!
Or you could always buy in from the supermarket. Here are my favourite supermarket pizza's. Share them with someone else and fill the other half of your plate with salad greens for a healthy dinner.
Pizza Express La Reine Italian Ham & Mushroom £3.99
Per pizza: 614kcal, protein 26.6g, carbohydrate 83g (of which sugars 6.2g), fat 19.6g (of which saturates 7.6g), fibre 7.4g, salt 1.8g
Tesco Finest Italian Style Sausage Pizza with Char-grilled Artichoke £3.49,
Per pizza: 610kcal; protein 32g; carbohydrates 82.5g (of which sugars 10.1g); fat 16.8g (of which saturates 6.9g); fibre 9.3g; salt 2.8g.
WeightWatchers Thin & Crispy Garlic Mushroom Pizza £2.28 (Asda), 220g
Per pizza: 410kcal; protein 26.9g; carbohydrates 69.1g (of which sugars 7.2g); fat 3.1g (of which saturates 0.7g); fibre 7.2g; salt 2.3g.
Wednesday - Fish and chips with mushy peas. Traditionally eaten on a Friday but I couldn't wait to try out this healthy fish and chips recipe!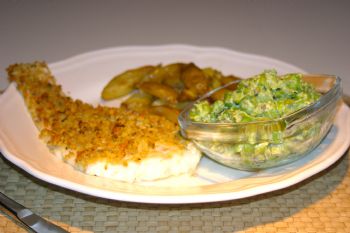 Time to prepare: 15 mins
Time to cook: 40 mins
Cost of ingredients: less than £5 per serving
Total calories of take-away version: 1100 calories (plus 173 for mushy peas)
Total calories of the home-made version: 400
Calories saved: 700 calories!
This isn't my recipe, I adapted it from the 'cook yourself thin' girls. See the original recipe here:
www.channel4.com/4food/r
ecipes/tv-show/cook-yourse
lf-thin-recipes/fish-and-c
hips-with-mushy-peas-recipe
Mine took slightly less time as I did a more simplified version of the chips. I simply brushed the chips with a tbsp of olive oil, sprinkled with salt and baked them for 35 minutes. I followed the fish recipe, but didn't have parsley and so left this out and it worked out perfectly. I made this dish for my husband, great candidate as he is very particular about his fish and chips and he absolutely loved it! I was worried that he would miss the deep fried batter, as this is his favourite bit but he loved the breaded version. Success!
Thursday – Chinese beef and broccoli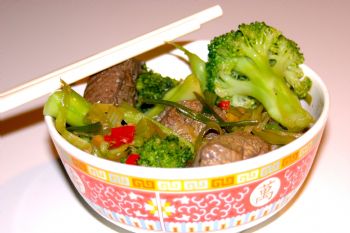 Time to prepare: 10 mins
Time to cook: 5 mins
Cost of ingredients: less than £4 per serving
Total calories of take-away version: 660
Total calories of the home-made version: 244
Calories saved: 416 calories
This recipe was taken from
www.bbcgoodfood.com/reci
pes/9276/beef-and-broccoli
-stirfry
I made this for my husband and I last night and have to admit that it wasn't our favourite out of the four dishes. Although the flavours were good, the beef was tough. This could be down to my cooking or the cut of meat but it wasn't a melt in your mouth kind of dish, you had to work for this one. Verdict: try it with teriyaki salmon instead!
So if you're considering ordering take-out this Friday night, give one of these a try instead. The calories you'll save are equal to one hard or two moderate work-outs and having control over the ingredients that go into your meal mean that there won't be any harmful oils (trans fats!) or hidden sugars that will wreak havoc on your health. If you do give one of these a try, I'd love to hear what your verdict is. Or if you have any good recipes of your own, then please share.
Adios for now!
Nicola