Really quick blog
I was having a bad day and I went to Starbucks to eat my feelings, there was a promotion... 2 muffins for the price of 1 so I had to buy them lol... anyway when I was going back to my car I heard a dog crying :( after looking for a while I found a dog (bitch?... that sounds ugly... let's call her lady dog lol) a lady dog hiding under a big truck, she looked so sad and ahhhh she had tons of puppies with her! It was raining, and the floor was wet so the puppies were getting all wet... I gave her one of the muffins and she let me get close to her and ugh :( I got close to the puppies... and they were all dead!!

words can't describe how sad I felt when I realized her puppies were dead :( poor mommy... I felt an awful pain in the chest and I felt like crying

.... I tried to convice the mom to come with me but she didn't want to.... and then :O one of the puppies moved!! it wasn't dead!! so I grabbed it and covered it with my jacket, and took him to my car, the mom came after me so I had to sacrifice the other muffin to make her get into my car...
After that I went for all the puppies, they were 10 in total, and they looked like they were dead but... I wasn't sure anymore so I took them with me anyway...
I took them to the vet... and in fact, all of them were dead :( except for one...
*Sigh* I brought home the mom with her baby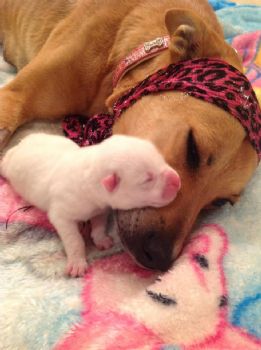 :( I feel so bad for them... aren't they cute?
Also I wanted to ask you a favor... well it's mainly for people who speaks spanish.. it's a petition... there's a guy who tortured dogs for years, he bred them illegally and he had them locked in tiny cages and starved them to dead ugh I have to run to the supermarket before it closes so I can't explain you the rest, here's the petition:
https://www.change.org/petit
ions/presidenta-municipal-
de-naucalpan-la-entrega-de
-los-perros-torturados-por
-el-sr-mario-aguilar-solis
(for some reason it doesn't work if I put it as a clickable link... so please just copy and paste it :) )
If you don't speak spanish, I promise you it's nothing bad, just a petition for not letting this guy have more dogs... we don't have laws to protect animals, so he can't go to jail... they rescued 46 dogs from his place but they want to give them back to him...
If you could sign it even if you don't speak Spanish you would make me super happy!
you don't have to write all your information, it's enough with your name (it doesn't even have to be the complete name) and email, you can write ----- in the rest, please? Also, there are 2 little boxes bellow, with a little tick, just remove the tick from them so you don't receive more emails from the site... please?????
thank you :)
it wasn't that quick after all lol now I really have to run lol
I love you