Oh my god. Oh my god! I can't believe what I just did. I can't believe it.
I just followed through on my promise.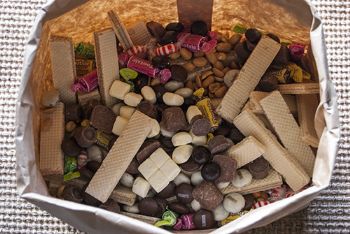 See all that right there? I just threw that ALL away. Every last bit.
About a month ago I resolved that should I binge on any food, it will be tossed. Of course it's never as simple as that, though. I waffled, I binged, I told myself I could throw the snacks and candies away later, I worried about the money I spent on everything. I managed to toss a bag of (free) animal crackers a week ago, but that was mostly because they were a couple of years old and smelled like rancid oil (I still ate a couple, make no doubt).
This time though, last night was really really bad. I kept going back and back and I knew something had to be done. As I lay in bed, I planned out how I would procede.
I did not just get up and toss everything in the garbage. In retrospect, I knew everything would have been back out of the garbage so fast it would have made your head spin. Just going for it would not have produced any success.
Instead, I lay and visualized my every move. First, I would sleep, wake, and go for my 5K training. Following this, I would come back and empty out all of the snacks and candy from my hideaways. Next, I would remove everything from the packages and dump it together in a bag. Then I would photograph it for prosperity, before dumping kitty refuse onto it. Last, I would go all the way downstairs to toss it in the dumpster.
And I did it. I did it! I allowed myself the time to accept it and as soon as I got home after my workout I was ready and I did it.
The empty containers are languishing in my trash bin. Four, count them four almost uneaten varieties of Goya wafer cookies (40 calories per cookie, what is that?!). A jar of oil-roasted peanuts. Starlights and fruity Tootsie Rolls. Two kinds of Hershey Drops. Mini Rolos, Bite-Size Butterfingers, and Junior Mints. You see that cluster of four butter mints in there? I was saving that as permission to eat all four at once.
All gone now.
It was hard, very hard. I will confess I ate the equivalent of a wafer cookie in the process. There was a Junior Mint stuck in the box that had to go in my mouth. I did reserve the sugar-free hard candies I use to flavor my teas and drinks, as well as two of each wafer flavors, a few sets of fruity Tootsie Rolls, some ginger candies, and my White Rabbit milk candies. There are also some unopened packages of Hershey Drops, Luna Bars, and maple covered peanuts here which will be dropped in the food bank bin as soon as possible.
But the majority of what I would binge on each night is out. I can't say I wasn't tempted by the candy even when I was dumping cat crap on it. But just look at all of that! It's a LOT more than I expected, thousands upon thousands of calories, piled a few inches deep. I thought I was being smart, purchasing the candies that were small in size, 40 calories or less each. Turns out I was just throwing away money. There are TOO MANY put into each package. Even if I allow one Hershey Drop candy each day, I would be eating them straight for three months. My cravings last a few days at most, not MONTHS.
My binges however seek to justify having one of each flavor every night only because it is there. As you can see, the binges usually have the edge on me.
Besides, the manufacturers always make more.
Every time I'm faced with the conundrum to toss food, I remind myself that they make more. These words have provided more comfort to me as a food addict and hoarder than you could ever understand. It's okay, they make more. If a craving for Butterfinger returns, they make more. If I want something, they make more. And I'll be a bit smarter to buy the candy in the smallest quantity possible such as from the bulk bins instead.
I'm still in shock. I planned and visualized myself finally following through on my personal promise, I slept on it and grew my resolve, and then I did it.
And it's so much more rewarding than allowing myself a piece of candy.