My baby Ares - the best running partner a girl could ask for!
Monday, September 24, 2012
Having finished C25K and run in 2 5K races, it's time to get back on the training wagon! I've just been floating around my workouts, sometimes running, more often not... and considering the fact that I'm registered for a half marathon in May, that doesn't seem like the best course of action for me

So, I've chosen a 10K training plan that will last for 10 weeks, then I'll have 10 weeks before my half training plan starts, so I've chosen a 15K training plan to fill the gap. Turns out, I do much better when an app on my phone or a piece of paper tell me what I need to do that day

Oh, and you know who else does a lot better? My baby Boxer Ares!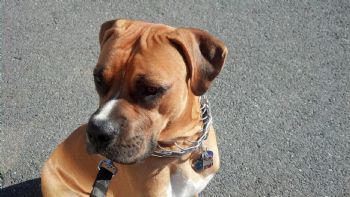 He's so happy that the paw-melting temps have gone away and we can head out again. Truth be told - so's his Mama!!