Let me start by saying thank you to all those who wished me well on my long run! It went great! Surprisingly great! I was out the door by 4:30 am (I needed to get done in time for breakfast with the grandson). It was one of those mornings when the dark and the familiar plod of the feet was comforting and calming. It had been a long, hard week but the run was almost rejuvenating -- considering it was 20.5 miles! I was very pleased with how it went. Hubby did well too on his 15 miler. Didn't have nearly the pain and discomfort as before, so we had a great breakfast with our son and grandson, daughter and our live-in boarder.
I had a haircut at 11, then came home to prep for the giant Sunday Engagement dinner planned. I mashed 16 lbs. of potatoes and got them ready to be re-heated the next day. I made over 120 dinner rolls, and prepped the meat. We brought in our addtional table to make a LONG table and squeezed it into our not very big living room. I got up early this morning and managed to finish getting things ready. This is just a portion of our the table.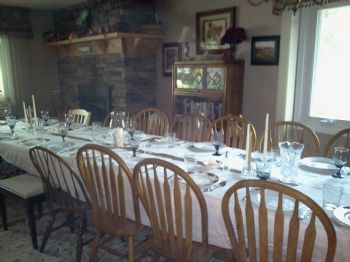 Just to clarify -- our table isn't really this big, but my creative hubby managed to figure out how to put a top on an old office table that curves just perfectly to our dining table. We can seat about 20. It is tight but not horrible. We have to use mismatched chairs and I intersperse plates (today it was white plates in between a china plate). While it isn't magazine worthy, the care and love is there just like the old days. The meal is usually something you would get at grandma's about 50 years ago :)
The dinner turned out well and everyone had great tips, wisdom and blessings for our youngest daughter and her fiancÚ. Our son and DIL and grandson stayed the whole day and we had the joy of watching our bouncy little grandson have a grand time. Our daughter with the sweet little new-born skyped in too and it was so sweet when our nearly 3 year old granddaughter exclaimed the moment we came on, "We have a baby!" (She has a new little sister).
And this morning I was greeted with this precious photo of our daughter and her family with their new addition.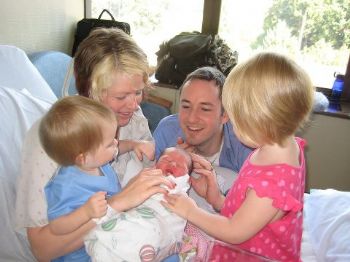 And here is the best part. My bedroom is a wreck, the house is still not put back together, and I am not really ready for the week -- but I am okay with that. I did take time to visit with people, I was calm, I enjoyed a glass of wine, I helped calm a nervous daughter who should have been thrilled at a party but was worried about a test in school, and a few other details fell into place in other areas. Despite the hectic pace of my life, I think I kept my priorities straight today -- people before things, time and attention to the real issues of life over my convenience or comfort.
I am feeling very blessed and grateful!
Hope you had a good weekend!
Annette