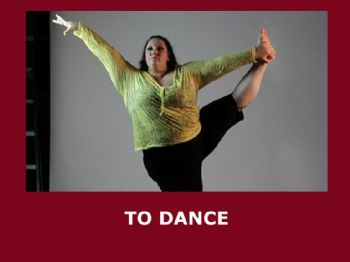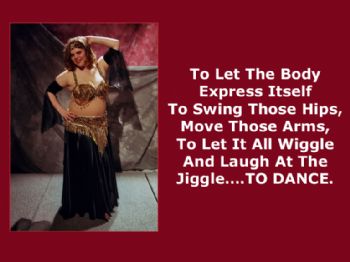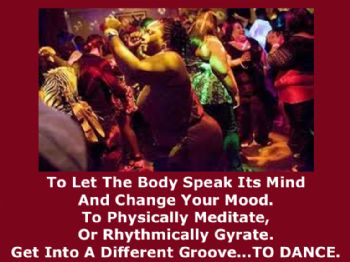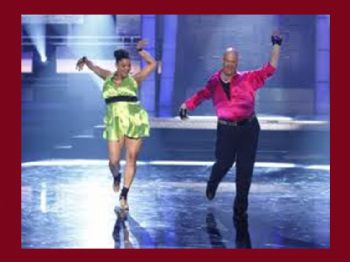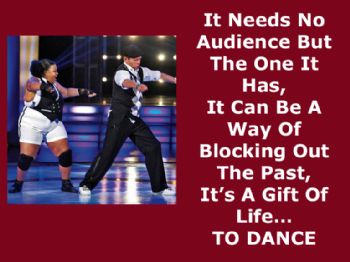 by yours truly SHERYLDS
{...i felt a bit of the poet this morning

...}
I Have Latin Genes In Me….
So Put On Some Merengue And I'm Doing My Own Version Of Zumba.
I Have Built In Attitude.
Dance Has No Age Or Weight Limit.
It Doesn't Care About The Weather Outside.
It Just Needs A Willing Participant Who Wants A Little Fun
And A Little Movement.
So The Next Time You Feel Like You're In A Funk
And You Want To Change Your Mood,
Put On Some Music With A Beat And Just Dance.

PUSH THAT TUSH -- and swivel those hips
for extra inspiration... the belly dancer is Valerie Vigdahl
Too Fat to Dance?
click on the link below
www.venusimaging.com/Mag
azine/2006/FebMarPassion/d
ancing.htm
and the first picture is
Ragen Chastain. Dancer, Choreographer, Writer, Speaker
DANCES WITH FAT
click on the link below
danceswithfat.wordpress.
com/
I agree with Ragen Chastain concept that a Healthy attitude is more than weight alone. It is body, mind, and spirit. What I have reservations with are people who take that attitude and don't try to LOSE the weight...some use that attitude to stop trying...and that's not good...because eventually the wear and tear on the body does it's damage. My philosophy is always keep going towards being the best you can be...there is always something you can improve
______
TO DANCE
To Let The Body Express Itself
To Swing Those Hips, Move Those Arms,
To Let It All Wiggle
And Laugh At The Jiggle….TO DANCE.
To Let The Body Speak Its Mind
And Change Your Mood.
To Physically Meditate, Or Rhythmically Gyrate.
Get Into A Different Groove…TO DANCE.
To Let The Body Feel Alive
And Get That Heart Pumping Deep Inside
To Give It All That You've Got
And Then Give It A Little More…TO DANCE
It Needs No Audience But The One It Has,
It Can Be A Way Of Blocking Out The Past,
It's A Gift Of Life…TO DANCE
by yours truly SHERYLDS