Another great hike day. I am so thankful that the hubby and I have jobs that allow us to get as much as do. Today was a family hike day so I wanted to keep it short and simple so my son wouldn't whine too much. No whining at all today and when we got home he even said "Mom, I had a really good time." Wow! He had fun and it didn't involve a video game. Goal achieved!
On the weekends, we like to go a little further from home and hit a trail off of the Blue Ridge Parkway. Today's choice was Crabtree Falls. Beautiful hike.
Today I would rank between easy to moderate, although there was one strenuous moment going up out of the gorge. I wanted something that we all could enjoy but wouldn't kill my son because as he puts it, "I'm a once a month hiker" even though he can run like a deer carrying a 15lbs pack on the trail. I'm greatly jealous.
I think to really turn someone on to hiking, you take them to a low mileage trail with great scenery and try not to kill them. And if you are really nice, you carry their food and water in your pack. Seth (my son) volunteered to carry a pack the first mile. It ended up that each of us only carried a pack 2 out of 3 miles. When it was my turn to go packless I felt so off balance that I almost asked for mine back. But it was nice to let my back breathe a little.
Anyway on to the hike. Crabtree Falls trail is located off the Crabtree Meadows Campground off the Blue Ridge Parkway about 8 miles south of Spruce Pine, NC. Wasn't too crowded today but you can tell this is a touristy site. The trail starts out a fairly easy walk mostly downhill with some stream crossing and sometimes the stream runs right with the trail. A lot of rocks but this was really an easy trail for the most part. From the store parking lot it is about 1.5 miles to the Falls.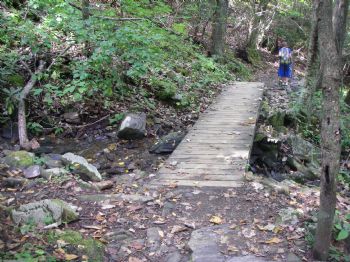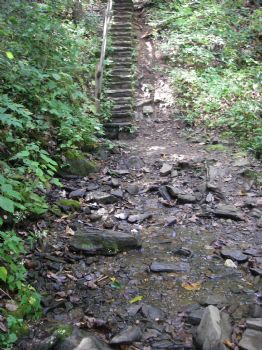 Hubby was in charge of the camera today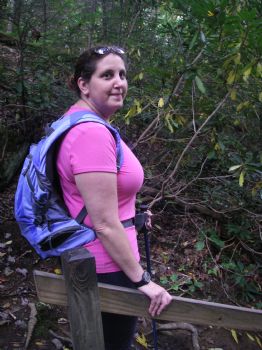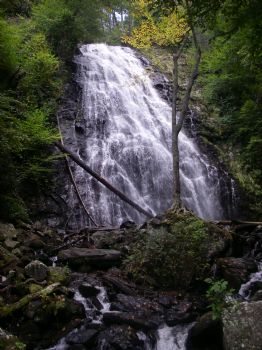 Looking for a rock to sit on for lunch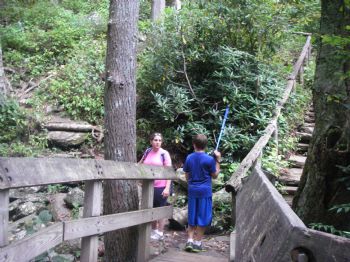 View during lunch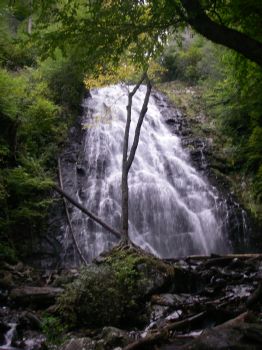 The climb out was a bit of a booger, with steep rock steeps and a gazillion switchbacks. After that the trail got really nice and what I call lazy. Just gentle ups and downs, a few rocks and roots here and there, just a nice pleasant walk in the woods.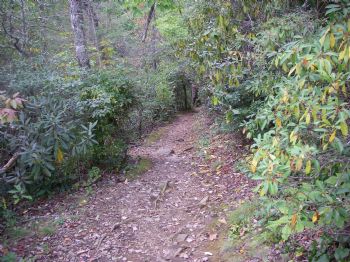 We walked by a creek for a long while, probably about a mile.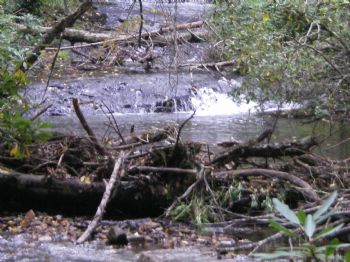 It was a really good for the most part easy walk, with a few uphill climbs. I am just so happy that my son who worships the Xbox, told me he had a really good time.
And remember don't go too fast or you will miss some things like a little fungus in a hollow tree!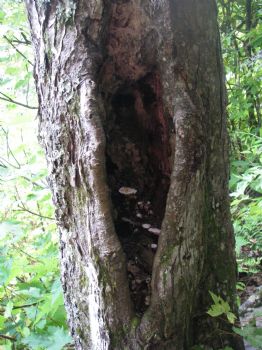 Hope everyone is having a great week