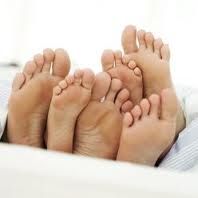 It is important not to forget to exercise your feet.
Marble Exercise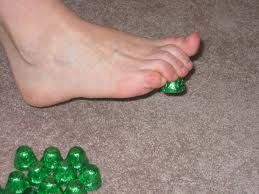 Put 10 small marbles on the floor and place a cup nearby. Using your toes pick up the marbles and place in the cup. Do two sets with each foot.
The Balance Act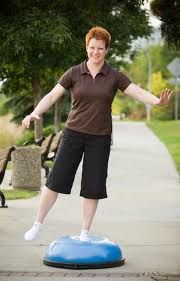 First stand on stable ground, balance on one foot with your eyes open for one minute. When you can do that without losing your balance then stand on one foot with your eyes closed for one minute . Master that then move to an unstable surface like a wobble board. This will strengthen your ankles and feet as well as your core.
Toe Tug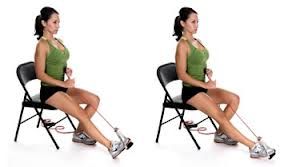 Loop one end of an exercise band around the top part of one foot with legs straight . Pull your toes toward you and slowly release returning to starting position. Do 2 sets of 20 on both feet.
Negative Calf Raises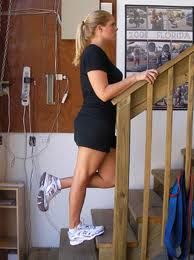 Stand on a step with your toes on the edge and your heels hanging off the step. Push off with your feet into a calf raise then remove one foot while you slowly lower the other foot till the heel is lower than the step. Do twice then repeat using the other foot. This has been shown to prevent Achilles tendinitis.
Plantar Stretch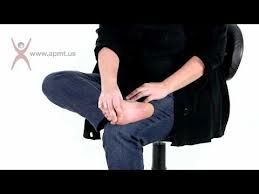 Sit barefoot and cross your right leg do the ankle rest on your left thigh. Hold your toes and bend them back toward your shin. This will stretch the planter fascia. Do this 10 times with each foot.
Ankle Dorsiflexion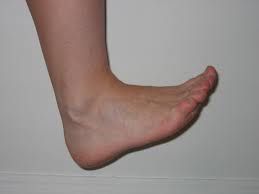 Set in a chair . pull leg up lifting your foot off the floor. Act like your trying to touch your toes to your shin and hold for 10 seconds. Do this 10 times for a set , do 3 sets then do the other foot. This will also strengthen your Shin.
Ankle Plantarflexion
Set in a chair, pull leg up lifting your foot off the floor. Push your feet down like your pointing your toes to the floor- hold 10 seconds and start over. Do this 10 times to make one set . Do 3 sets with each foot.
Strengthen Toes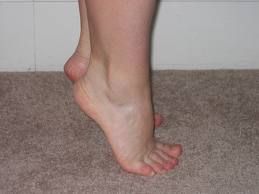 On stable surface rise up onto your toes and hold 10 seconds. If you are unstable hold on to a chair or wall for balance. Do this 30 times for one set and work your way up to 3 sets.
Massage Foot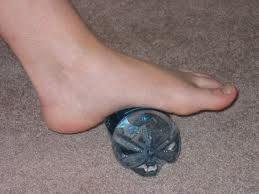 This exercise will massage and ice your foot at the same time. Fill a water bottle with water and freeze it. Roll each foot on the bottle for 10 min.
Have a great week everyone! Thanks for stopping in, Paulette