This week it felt like winter, let alone autumn. As I walked to the station on Monday, the wind whistled round my ankles, carrying with it a eddy of crunched up leaves.
Time, I thought, to dig out some winter layers. My handknitted (by me) wool and mohair hat.
See hat, below: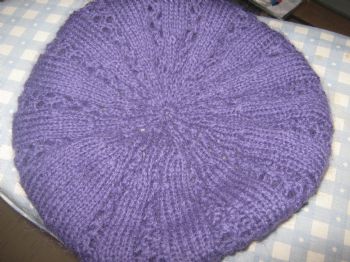 .
My cashmere scarf, my wool and silk Fragonard scarves, my posh gloves from Dents, my two gorgeous winter coats (one black, one lime green). However a quick trawl through my wardrobe has reminded me that I haven't got that many other clothes that still fit. In spite of my own best efforts to fall off the wagon, lose count of calories and generally stuff up my weight loss, I am two sizes smaller than I was in February.
That's not to say that I'm going to find buying new clothes in my present size easy. No way. The shops still cater for the young, slender and athletic. That' about 10 per cent, max of women (statistic off the top of my head, and don't argue with me, you won't win). These are the women that shops presumably think buy the most clothes. Fact of the matter is, if I could find good quality clothes that fitted me, I'd buy three times as many as I do. For years and years I have in fact been buying everything I see that is big enough and that I could possibly want to wear.
Yes, I'm choosy. But also - of the high street chainstores in the UK there are only three I know of that sell clothes big enough for me. I really don't like buying stuff online because if you don't like it or it doesn't fit, it's a hassle to return it.
So that's why, on my SparkPage, one of my goals is to be in an English size 18 by Christmas. I need to lose another 25 pounds to get there.
The big autumn push starts tomorrow.
Anyone coming along with me? Sign up below!