Friday, September 21, 2012
Been cleaning out house. My finace thinks its just to clean up before school starts on Monday, but that's only half the truth. I am planing a surprise party for him for his birthday. Kind of need the house clean and can't do it myself so I'm tricking him lol. It's working out pretty good, and now I'll be able to pull the prop making"boxes" out of the way on the 11th. I also need to go drop of his pic for the cake. I'm taking one of our favorite pics of him from Halloween. Our friend who's a photographer took it and has had a lot of people order it lol.
I've also trick him into to planing his main course. The party trays I'm not telling him about. Just been telling him "We" will have dinner. He doesn't understand "We: means his Friends. I need to talk to his aunt so she can pick him up around 4pm. Right after she gets off work. She has been wanting to spend some time with him so that gets him out of the house. Will be finishing up decorating and setting up then. After I get the cake of course. Maybe I can have a freind pick it up before they show up at 5pm.
I'm hoping to have his aunt drop him off at about 5:10-5:15. Plus making sure nobody parks in front of the house. Would kind of blow the surprise lol. Then it's party time.
As for the dinner he decided on a chicken curry. Still looking at recipes to see what I'll need to make the curry. Plain on starting to cook that after he leaves. I might start sooner and just say "Making sure to have leftovers for this weekend. He freaking loves curry so he'll believe it. lol
Also starting to decorate house. Think I might get some spider webs going today. emoticon Plus I have to make sure my bag is packed for Monday. First day back to school. Can we just keep repeating today? Just like in groundhog day. Then I don't have to go to school.
That and been helping to get the final details done for zombiefest. Which is going to be awesome. Especially since we got a guy who does "fried Twinkies" Apparently he never heard of zombieland and had no idea the movie is about finding the last Twinkie. I don't plain on having any but everyone is going to get a kick out of it. Plus the original Micheal Myers is going to be there. :)
So ya busy but for some good reasons. B-day 2 days before zombiefest on the 13th then Halloween. Plus studying for school. Should be awesome!!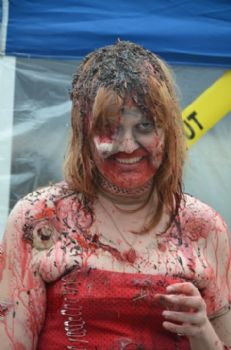 I am not going to be this sticky this year