Four full days on SP and day 3 of my personal 30 day challenge. I decided to do this in order to intensely concentrate on my nutrition, fitness and emotional goals for these 30 days. The daily blogging (something I've wanted to do for awhile), is really just to add an additional element of accountability for me. Something makes it more 'real' if it's posted online, rather than on my word document on the computer desktop.
So my focus for today's daily thought is about planning.
A friend of mine who managed to quit smoking on her own once told me that the most difficult times were the third day and the third week. Why? I'm not quite sure, but I would imagine it had something to do with breaking free of the addiction and habit changing. She told me her doctor had told her to expect this, and as a result she planned for it.
I think breaking the unhealthy junk food/sugar/etc addition is a similar process in some ways (in other ways, it is obviously quite different). I have noticed that as my body continues to adjust to the change in eating and increased efforts at exercise, that it does take some planning and conscious thought process to not slip back to the old habits. I'm just past the half-way mark of week one, and so I have been thinking about my progress so far (staying with plan, exercising daily, and feeling better already!). I have also recognized that at least for me, I need a plan -- a menu plan, an exercise plan for starters, otherwise I find it much easier to stray.
At least at this early stage of my journey, none of these changes are embedded habit yet, so planning is key. It helps me stay on track and at the end of the day when I've had a plan and stuck to it -- I feel like I have accomplished something good which helps keep me encouraged. Speaking of accomplishments -- I decided to check the scale today (an activity I refer to as my weekly ME-day -- to make it more about me, and less about the scale) -- and I'm down four pounds in four days. Yeah, I know its mostly water weight due to loss of glycogen stores.. yada yada yada. But you know, the human body is approximately 50 percent water -- so at least half of your weight loss is going to be due to water along the way. The first week is always the best though -- so I'm trying to keep up the oomph to have a super successful first week in another three days.
So on my hike today (this was originally to be a 30-day-hiking challenge, which I've modified to be a 30-days-of-hiking-at-least-eve
ry-other-day challenge, so long as my knee is up to it), I took this cool photo of the shady plants in the AZ desert. Who said there isn't great shade in the desert?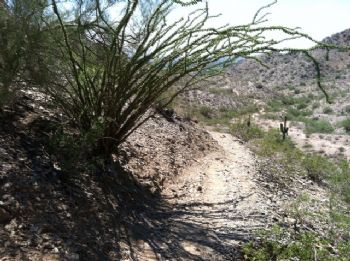 Looking forward to the next 27 days!