Let's get this plan together!
Monday, September 17, 2012
OK so I need a roughly 12 week plan to get me ready for the holiday's!
Over all goals are to lose inches around my middle and strengthen and build my upper body (arms, back shoulders) I would also like to lose 6 pounds in the next 12 weeks though I am not so concerned about the weight loss if I am building muscle and losing inches.
Now, how to accomplish this!
1. Food tracking - get ready to hear a whine.....I HATE FOOD TRACKING!!! I hate it I hate it I hate it!! sigh. it works so I will do it. I will track all possible meals (except for the ones where I eat out at the local restaurants. I can't get nutritional info from them). In addition to tracking I will use the note section to record how I felt about what I ate that day and if I see anything where I can improve or did really well I will use that area to record it. I also plan to develop a new menu that follows more of a meat less lower carb diet. I am not an Adkins girl, I just need to stop eating so much bread....man I love bread!
2. Exercise - I am going to start out the first few weeks with a minimum of 20 minutes 6 days a week. after 3 week I will evaluate my progress and decide how much to add for the next 3. I will also use the note section on this and record how I feel about my workout. Focusing on Mental and physical.
3. I will participate on my teams and I will read blogs that motivate me. In turn I will take my notes I made and blog once a week compiling all my notes and evaluating my week hoping that my blog will motivate someone else!
Lots of my issues are mental. I am STILL hanging on to that skinny girl I used to be. I am STILL in denial that I am ever getting old and the more I yo-yo the harder this is going to be. I am STILL getting very close to my goals and self sabotaging myself. I hope by doing these three "simple" things I will turn this around and move on and stop once and for all holding on to the past!
here is me - yucky side view before picture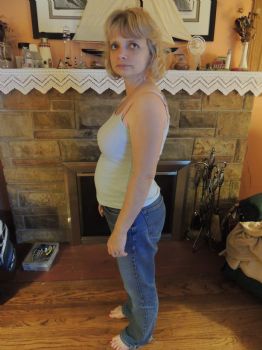 here is me with my guns showing! HA!!!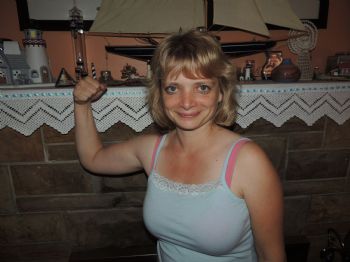 Here is my cat who is telling me to get off the computer and pay attention to her!