Officially three days on the SP plan and two days into my personal 30 day challenge. So far, all is good. Since today was Sunday -- I thought today would be a good day to relax a bit and focus on some stretching exercises for flexibility and relaxation. (And to give my pathetically blistered foot a rest.) So instead of my daily 'get up and go' hyperactive song (one of my daily goals), I opted for a nice, spa-like tranquil song and lit a candle to get the mood right. Of course I had to blow the candle out once the cat discovered it -- but I did get to enjoy it for a few minutes.
While stretching, I decided to meditate (okay, I'll admit that I'm using that word very loosely here), on the idea of change. But for some reason the idea came to my mind while relaxing and kept my interest for a large chunk of the day. Change is tough. Pretty much any kind of change or deviation from what is routine, can be a little uncomfortable -- even for those of us who feel like we embrace change easily and willingly. I like to think I am one of those people, but really... maybe I'm not.
Why is that?
I think it is partly stepping out of my comfort zone and into a 'new' unfamiliar territory. While unfamiliar can be interesting for a little while, eventually I want to get back to my own comfy spot in the universe and away from the scary 'unknown'. In my life, there is a lot of change going on. One change (here) is my goal to live a healthy lifestyle. The other major change I am dealing with is on a larger scale, at least externally, and it involves a job change and relocation to a new city and state. The first one was my choice. The second was not, although I'm coming around to the idea that, it is the best thing that could have happened to me. But change is still sometimes difficult. Even as I write this now, I find it somewhat ironic that I've labeled "changing my own lifestyle" as being inferior in some way to my change in job and relocation. That seems kindof backwards and is something else I am working to change -- focus more on living life.
As for my healthy lifestyle changes, even after only three days of focusing my energies on being healthier -- I feel amazingly much healthier than I did a week ago. Placebo effect? Maybe. Maybe not. So I ask myself, I feel so great and healthy when I eat well and exercise -- why haven't I been doing this all along? I think for each person that answer will be different, but for me I think it is because somewhere along the line, I let myself slip out of the habit of being healthy, and once out of the habit -- it is easy to forget how good it feels to be living a healthy lifestyle.
As for the other upcoming changes going on -- I'm really excited about my new job and relocating, but I'm a little nervous about it as well, and I think that also makes the idea of "change" a bit unnerving. That whole scary unknown idea rearing its head again. A very close friend of mine mentioned to me today, that she thought I was 'stuck' in life. When I asked her what she meant -- she couldn't really explain it other than she thought the solution was that I needed change. Hmm. So sometimes (actually a lot of times) change is a good thing.
With every ending comes a new beginning.
Looking forward to the next 28 days!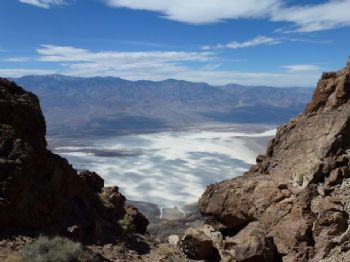 View from beyond Dante's Peak in Death Valley -- March 2012