Blog or journal about 1 thing that you are planning to work on this Fall Challenge.
Sunday, September 16, 2012
Blog or journal about 1 thing that you are planning to work on this Fall Challenge. We will compare in Week 10 and see how far we have come
......................
One thing I plan to work on is self sabotage. I get to a goal and do well them I overeat and ruin it. I try to exercise a little extra to help offset the calories but it never works. today I went over and I am 5 pounds heavier for it. I would like to think it will go away but it won't. When this happens no matter how hard I try it always stays with me for 1-2 weeks. I had just gotten rid of 7 pounds I gained from one bad meal. I could have an imbalance or could just be eating enough to throw my body off balance.
I am going to work on this. Some old feelings of failure come up when I see a success on my scale. It even bothers me when people compliment me on my weight loss. I am polite and say thank you. On the inside I am want to scream. I once thought those positive comments would be good. However they are not always.
One positive is I inspired a friend to lose. Our kids are best friends so we are not very close. She saw me at the first football game and kept staring saying how incredible I look. I was about to cry. She also told me of a gym near her house she might join and offered to work out with me. It is far and finances say I cannot afford it. Maybe I can get her in to running and we can do 5k's together? It was nice to meet someone I helped that I already care about.
By the next game she told me she did join the gym and got a trainer once a week. Good for her!! I told her she is doing great!! I can give compliments better than I take them. :)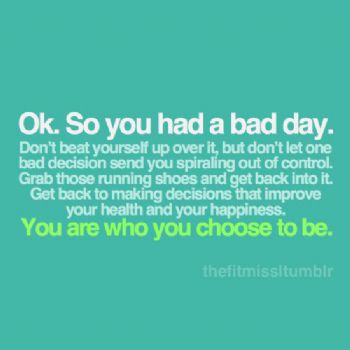 I am open to any comments on my self sabotage. I am trying know that I know what it is! I will start bogging more. It seems to help me a lot! Once to twice a week at least.