Cooky Recipe Numer 14: Chocolate Fruit Bars and a Big Thank You to JULESRULES78
Sunday, September 16, 2012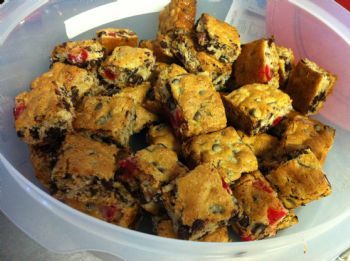 These were from last weekend but I didn't get a chance to post.
For my sister in law's birthday, she requested oatmeal cranberry walnut cookies (not from the Betty Crocker Cooky Book) I baked these yesterday and we met up today.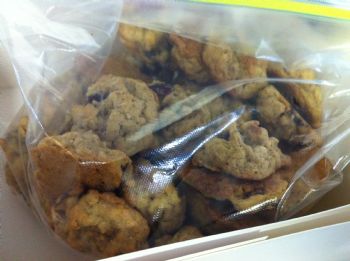 Today I baked some orange chocolate chocolate chip cookies (recipe courtesy of JULESRULES78) to bring to a Rosh Hashanah dinner at my Aunt and Uncle's house
And how am I doing.....well, that butt cramp I had last Saturday appears to have turned into piriformis syndrome. The muscles were so tight that it pulled my hips out of alignment. I went to the chiropractor on Monday and she straightened them out...and I felt a lot better but still sore in the butt. By Friday, I needed to go back and have them realigned. My butt is still sore. It hurts to walk but not sit or stand. I have not done any running since last Saturday. I have been doing stretching, foam rolling, yoga and rolling my butt on a trigger point ball. I do have a chiropractor appointment tomorrow afternoon and I'm hoping that will help. I also have a sports massage on Tuesday...hopefully that will get all the tightness out and I'll be pain-free. I would really love to get back to running so I can do my HM in December.