What is my plan for this 12 week group? Well, for starters, lets talk about why I'm here.
~ Why? I'm a part of BLC because it is a community of people that I can look to for support, accountability and motivation, both my team and the group as a whole. I seem to be one of those that need a competition and a buddy and BLC gives me that. (Okay, so does CoHP, but this is a BLC assignment, so that's why they are getting named). I'm also here because I'm trying to lose weight. At this present moment I'm stuck on a plateau and would love to get off of it.
Okay, now that I've answered the why, let's answer the how. That is a multiple step answer.
~ Exercise: I am part of the 12-week streak group that have pledged to do 20 minutes 5 days a week, which works out to 100 min a week. Part of that exercising for me will be a C25K program for 3 days, and visits to the gym for cross-training and ST. I do have some workouts and videos I can do at home, but I would not like that to be my main form, more of a fall back.
~ Food: I am tracking my food via myfitnesspal.com. It is a slow process and not one I think will be complete by the end of this round, but I am trying to edge in more freggies and less sweets. Also, hubby does pretty good at making healhty dinners, but can get lazy at the last minute with his issues. I need to make sure that if he doesn't end up making dinner, I have healthy alternatives. Making a list of plans could help with motivation to cook as well.
~ Water: As always, 8+ cups is the goal. Unfortunately, I know that I am not up to that. My bottles/cups are 2-3 cups, so my goal is to finish a bottle/cup completely. As I progress and a bottle is easy to finish, then I will up it to 2, etc. (This doesn't count what I drink with meals or working out, as that's a given.)
~ Motivation: This will be achieved through daily check-in with my team and by participating in challenges to the best of my ability. The BLC doesn't ask for perfection, but they do ask for participation, so that is what I will give them.
~ Rewards: To be honest, I don't really have a reward system set up. Money can be tight sometimes. I guess things that are on the list are clothes and music. I do have a 5K run coming up, so maybe I can talk hubby into letting me sign up for another one after that. Maybe we can do something nice for dinner or a wine tasting.
Alright, now that you know the plan, let's start with a pre-test. This is my starting point on the challenge.
First, my stats:
Weight: 168.2
Chest: 40.5
Waist: 41
Hips: 45.5
Thigh: 26
Upper arm: 12.5
Next, my picture: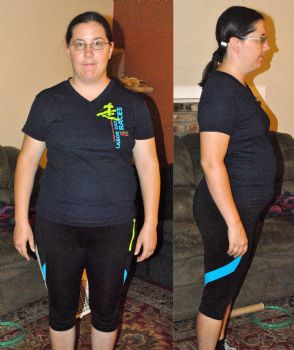 Just a note, the areas I would want to change are thighs, stomach, waist, butt, arm strength (seriously, my upper body strength is not very good). Areas I would keep, well, just one and that is my boobs. Seriously, I got (slightly) bigger with my weight gain (not that much bigger, but its now harder to wear a sweatshirt without a bra if that says anything) and its the one area I don't want to go back down.