I LOVE Sundays, especially lately. The air is cooler, the maples are beginning to turn gold, and football is on all day long. It's a perfect recipe to put me in a festive mood. And when I'm feeling festive, I like to let loose and stuff my face.
And today is no exception. We're watching the Eagles and I just polished off a cheeseburger, a double cheeseburger, and fries. Yes, that's a total of 3 burger patties! I'm so full and happy right now... and I'm even MORE happy that I didn't bust my calorie budget for the day!
I made sliders and oven baked sweet potato fries, and both the desire to nibble and the taste of a really GOOD cheeseburger were satisfied for under 500 cals. There's still room for a beer or two this evening--bonus!
I took the basic recipe for burger mix
recipes.sparkpeople.com/
recipe-detail.asp?recipe=7
64657
and tweaked it slightly with what spices I had on hand. When you're cooking with raw hamburger, like burgers and meatloaf, it's very important to spring for the leanest you can find. I minced my onions in the food processor until they were very small and very wet; it blended well into the beef and really helped keep it moist. The spice blend I ended up using was garlic salt, fresh cracked pepper, and red pepper flakes for a little zing. I used a butter scoop to portion the patties. I formed them into discs, but next time I'll know I need to really flatten them out. They shrank into near-meatballs while they cooked. I put them on a wire rack that I placed on top of a lined cookie sheet and baked them at 450 for about 15 minutes. Halfway through I flipped them and topped with Sargento Ultra Thin cheese, half of 1 slice per patty. It adds only 20 cals!
I love this stuff..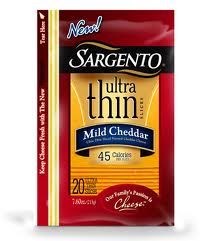 For the sweet potato fries, I prepared them exactly how I did the oven fries last Sunday. The only tweak I did was to toss them in 1 tsp of vegetable oil instead of using cooking spray. I felt like indulging today! I used a beautiful sweet potato that I got from my CSA this week, and it smelled and tasted so yummy. To season them I used a blend of kosher salt, sugar in the raw, and cinnamon; a pinch of each.
And like I said, a hearty portion of each came in under 500 cals, you really can't beat that!
Here's a close up of one of my ooey-gooey sliders.. it was pretty tasty.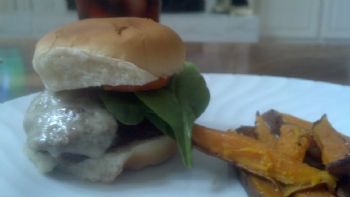 Talk to y'all the next time I eat something good!