It is official. I've completed two days on the SP plan. While it may seem like a small accomplishment, for me it's a step in the right direction and I'm taking this opportunity to celebrate. Less than a year and a half ago, I was probably in the best shape of my life and spent 10 days hiking at high altitude in the Andes of Peru. After a bad knee injury, stress, job loss, depression, guilt, 20 pounds heavier, yada yada yada.. here I am. But it's good, because things could always be worse and because HERE I AM -- and I'm ready to go!
Having not hiked for about 6 months, I started yesterday on one of my favorite trails in the nearby mountain preserve. The trail that I once loved to hike almost daily was suddenly brutal and unforgiving to the point where I had to cut back and shorten what was formerly my 'short easy hike' just to get through the hike in one piece. So today while doing the same hike, it occurred to me that I should make up my own personal 30 day challenge as sort of a "jump start" activity. But what sort of challenge would it be? I thought about that for awhile and decided maybe first I should think about what sort of goals I'm looking for. No crash dieting or crazy exercise plans -- just something to help me stay accountable to myself with my nutrition and fitness, and maybe some introspective exercises along the way. Sortof a spiritual-nutritional-physical thing. Okay, easy enough.
GOAL: To live a healthier lifestyle, and by default be healthier.
Sounds simple and noble. For me hiking has always been 'good for the brain'. Something about getting out into nature and away from the city concrete is just good for me and my mind. In reaching this 'zen', it made me stop and think about what roadblocks have I encountered to prevent me from reaching this goal. Let's face it. There are a lot of things that I could use for an excuse -- but I was more interested in owning up to what got me where I am today. I have to take responsibility for myself and my actions -- not just in nutrition and fitness, but life in general. Sure, there will always be contributing factors, but if living a healthy lifestyle really is important to me, then I am the only one that is going to make it happen.
Somewhere near my turnaround summit point, a chubby lizard scurried across the trail in front of me. (Funny enough I saw a lizard yesterday as well, so I'm considering that my alternate name should be 'She Who Hikes With Lizards'.) I stood watching it sun itself on a rock just off the trail and got to wondering what a hard life it would be to live as a lizard in the AZ desert. Yes. I am comparing myself to a lizard here, but it does give you some perspective. Things could be worse, I might have to eat bugs all my life.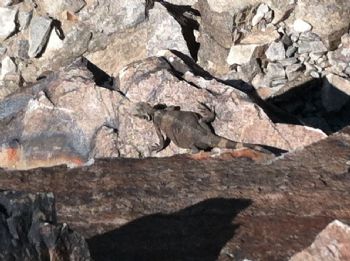 Well about this time, I noticed a 'hotspot' developing on the bottom of one of my feet, about 25 mins from the trail head. I was getting a blister. While you might not appreciate the irony here -- I think I can count on one hand the number of blisters I've EVER gotten over a lifetime of hiking. This was occurring right about the same time that I was thinking I ought to go for a hike everyday for 30 days and write about it. Well, that might be difficult. It's amazing how much damage you can do to your foot in such a short amount of time. I didn't have any band-aids and thought it best to just get back home. And while I did consider hopping back to the trail-head, I'm sure after 30 minutes of doing that, the likelihood I'd end up with more damage than just a blister was probably high. Hmm.
Bigger lesson here: Don't be discouraged if plan "A" doesn't work -- the alphabet has 25 other cool letters to work with.
I'm looking forward to the next 29 days.