Wednesday, September 12, 2012
For the past, oh, ten years or so, I've had the same birthday cake. Not the exact same cake, that would be gross, right? But they same style of cake made. And every year, somehow I end up eating about half the cake myself. Not in the same sitting, but for a few days after the birthday excitement is over. So this year, I've asked not to have a birthday cake. Sounds mean, no? But, you must see the cake to understand why I said no this year!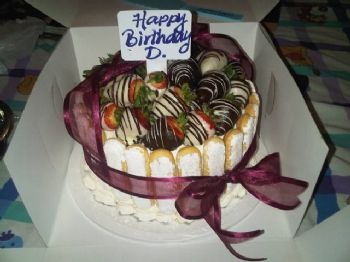 I put up pictures of the past 2 cakes to show I'm its the same style of cake EVERY year. I've broken some hearts with my no birthday cake decision, apparently other people have gotten used to, and looked forward to me getting my cake! I just can't do it to myself this year, people! I can't and I won't!!
Did I mention that 2 weeks after my birthday it's my sister's birthday, then 5 days later it's my bf's birthday? I'm just glad my family isn't any bigger, I'd be eating cake all year!!
My actual birthday is later in the month, but as you can see by the cake it has to be ordered at least a week in advance, so I had to spread the news early enough so it wouldn't be ordered. I hope they don't ignore me and get it anyways...